The Avid Reader will be welcoming Lauren Marie and her first fiction book for young readers, Emma and Starfire: A Story of the Star Horses, in-store on Saturday, November 2nd.
More about Emma and Starfire: A Story of the Star Horses:
Lauren Marie's Emma and Starfire tells the story of Emma, a girl with one dream: to have a horse of her own. Her dream seems out of reach, and she only has an unwilling cow to ride.
At school, Jane, who rides racehorses, bullies Emma about not being worthy enough to ride a horse. That night, Emma gazes at the sky and wonders why Jane is so mean. A white light streaks across the sky.
The magical Duchess of the Stars appears and entrusts Emma with Starfire, a buckskin colt--the offspring of the Star Horses who rule the stars and the sun. With Starfire by her side, Emma gains the confidence to stand up to her bully.
More about Lauren Marie:
Lauren Marie graduated from Point Loma Nazarene University with a degree in Creative Writing. She was inspired to write the Star Horses books in order to use magical tales to help children learn lessons about humanity. Lauren lives in Yolo County and has Star Horses of her own.
Event date:
Saturday, November 2, 2019 - 4:00pm
Event address:
The Avid Reader
617 2nd St.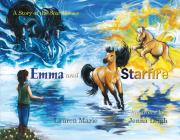 $13.95
ISBN: 9781945805844
Availability: Usually Ships in 1-5 Days
Published: Bedazzled Ink Publishing - February 1st, 2019
---