Current Availability
WE'VE BEEN WAITING WEEKS FOR THIS ANNOUNCEMENT
WE ARE OPEN FOR BROWSING!!!!!
AVID READER BOOKSTORE BROWSING HOURS:
MONDAY to THURSDAY 10AM - 4PM
FRIDAY to SATURDAY 10AM - 6PM
SUNDAY - CLOSED
AVID & CO TOY STORE BROWSING HOURS:
MONDAY to FRIDAY : 10AM - 5PM
SATURDAY to SUNDAY : CLOSED
WE CAN'T WAIT TO SEE YOUR LITTLE MASKED FACES.
(BUT SERIOUSLY, YOU MUST BE MASKED BECAUSE IT'S THE COUNTY'S RULES)
USE APPROPRIATE SOCIAL DISTANCING PRACTICES WHEN YOU VISIT THE STORE.
HAVE A SPECIFIC BOOK IN MIND? PLEASE CALL 530-758-4040 OR EMAIL ERIN@AVIDREADERBOOKS.COM FOR CURRENT AVAILABILITY - WE CAN CHECK STORE STOCK OR MAKE A SPECIAL ORDER.
GOTTA DO EVERYTHING WE CAN TO KEEP EACH OTHER SAFE!
Where Have All the Pop Stars Gone? - Volume 2 (Paperback)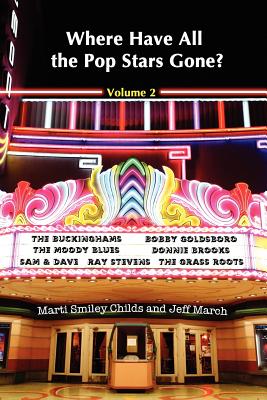 $19.95
Usually Ships in 1-5 Days
Description
---
"Where Have All the Pop Stars Gone? -- Volume 2" tells the true life stories of 21 singers and musicians who achieved fame in the 1960s as soloists or members of hit-making bands -- the Buckinghams, Bobby Goldsboro, the Moody Blues, Donnie Brooks, Sam & Dave, Ray Stevens, and the Grass Roots. Authors Marti Smiley Childs and Jeff March obtained information about all artists from conversations with the performers themselves, and with family members and close friends of some of the deceased performers. The musical artists and others took part in refining the content to ensure accuracy. The book preserves conversations with three performers who have died since Childs and March spoke with them. These musical performers collectively recorded a total of 118 singles that reached the Billboard Hot 100 chart, including 19 that made the top 10, four that hit No. 1, and eight that earned gold-record certification from the Recording Industry Association of America (RIAA). Their recordings encompassed 17 singles on the R&B chart, including eight that reached the top 10 and two that hit No. 1; and 58 singles on the country chart, including five that peaked in the top 10, and one that hit No. 1. "Where Have All the Pop Stars Gone? -- Volume 2" contains 56 photos, 32 of which are rare or never previously published.