Current Availability
WE'VE BEEN WAITING WEEKS FOR THIS ANNOUNCEMENT
WE ARE OPEN FOR BROWSING!!!!!
AVID READER BOOKSTORE BROWSING HOURS:
MONDAY to THURSDAY 10AM - 4PM
FRIDAY to SATURDAY 10AM - 6PM
SUNDAY - CLOSED
AVID & CO TOY STORE BROWSING HOURS:
MONDAY to FRIDAY : 10AM - 5PM
SATURDAY to SUNDAY : CLOSED
WE CAN'T WAIT TO SEE YOUR LITTLE MASKED FACES.
(BUT SERIOUSLY, YOU MUST BE MASKED BECAUSE IT'S THE COUNTY'S RULES)
USE APPROPRIATE SOCIAL DISTANCING PRACTICES WHEN YOU VISIT THE STORE.
HAVE A SPECIFIC BOOK IN MIND? PLEASE CALL 530-758-4040 OR EMAIL ERIN@AVIDREADERBOOKS.COM FOR CURRENT AVAILABILITY - WE CAN CHECK STORE STOCK OR MAKE A SPECIAL ORDER.
GOTTA DO EVERYTHING WE CAN TO KEEP EACH OTHER SAFE!
Words Of Gratitude Mind Body & Soul (Hardcover)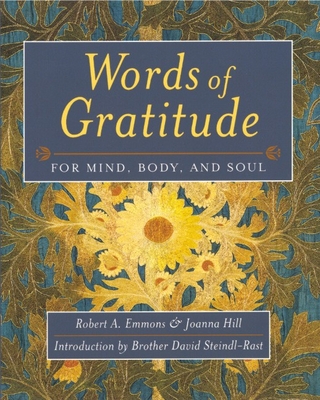 Description
---
"The test of all happiness," said G.K. Chesterton, "is gratitude."
Learning to experience gratitude involves being grateful as an attitude, not as a reaction when good things occur. To be grateful, one does not need to wait until things are perfect. In fact, practicing gratitude makes one receptive to life's blessings, and these blessings continue as we continue to be thankful.
In one study, described by author Robert Emmons, participants who wrote about five things for which they were grateful experienced more positive emotional states and were more likely to help others over a period of ten weeks than were participants who wrote about the hassles and stressors they experienced during the same time.
"Love wholeheartedly," says Brother David Steindl-Rast, "be surprised, give thanks and praise—then you will discover the fullness of your life."
Gratitude provides gifts to both the giver and the receiver, and this illuminating book will inspire readers to recognize just how truly blessed we are.
About the Author
---
Robert A. Emmons, PhD, is professor of psychology at the University of California, Davis, where he has taught for the past thirteen years. In his research, he explores how religiousness and spirituality may reflect core aspects of identity and how these aspects of self are involved in well-being and personality. He is the author of over sixty research articles and book chapters. His most recent book is the Psychology of Ultimate Concerns: Motivation and Spirituality in Personality.
Joanna Hill received her MA in religious studies from the Academy of the New Church Theological School in Bryn Athyn, Pennsylvania, where she currently resides.