Current Availability
WE'VE BEEN WAITING WEEKS FOR THIS ANNOUNCEMENT
WE ARE OPEN FOR BROWSING!!!!!
AVID READER BOOKSTORE BROWSING HOURS:
MONDAY to THURSDAY 10AM - 4PM
FRIDAY to SATURDAY 10AM - 6PM
SUNDAY - CLOSED
AVID & CO TOY STORE BROWSING HOURS:
MONDAY to FRIDAY : 10AM - 5PM
SATURDAY to SUNDAY : CLOSED
WE CAN'T WAIT TO SEE YOUR LITTLE MASKED FACES.
(BUT SERIOUSLY, YOU MUST BE MASKED BECAUSE IT'S THE COUNTY'S RULES)
USE APPROPRIATE SOCIAL DISTANCING PRACTICES WHEN YOU VISIT THE STORE.
HAVE A SPECIFIC BOOK IN MIND? PLEASE CALL 530-758-4040 OR EMAIL ERIN@AVIDREADERBOOKS.COM FOR CURRENT AVAILABILITY - WE CAN CHECK STORE STOCK OR MAKE A SPECIAL ORDER.
GOTTA DO EVERYTHING WE CAN TO KEEP EACH OTHER SAFE!
Riot. Strike. Riot: The New Era of Uprisings (Hardcover)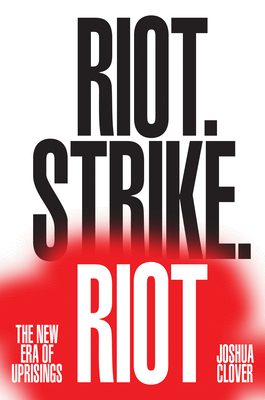 $24.95
Usually Ships in 1-5 Days
Description
---
Award winning poet Joshua Clover theorises the riot as the form of the coming insurrection

Baltimore. Ferguson. Tottenham. Clichy-sous-Bois. Oakland. Ours has become an "age of riots" as the struggle of people versus state and capital has taken to the streets. Award-winning poet and scholar Joshua Clover offers a new understanding of this present moment and its history. Rioting was the central form of protest in the seventeenth and eighteenth centuries, and was supplanted by the strike in the early nineteenth century. It returned to prominence in the 1970s, profoundly changed along with the coordinates of race and class.

From early wage demands to recent social justice campaigns pursued through occupations and blockades, Clover connects these protests to the upheavals of a sclerotic economy in a state of moral collapse. Historical events such as the global economic crisis of 1973 and the decline of organized labor, viewed from the perspective of vast social transformations, are the proper context for understanding these eruptions of discontent. As social unrest against an unsustainable order continues to grow, this valuable history will help guide future antagonists in their struggles toward a revolutionary horizon.
About the Author
---
Joshua Clover is a communist. He is also a professor of literature and critical theory at the University of California Davis. A widely published essayist, poet, and cultural theorist, his most recent books are Red Epic and 1989: Bob Dylan Didn't Have This to Sing About.
Praise For…
---
"Riot, in this absolutely necessary book, is considered as differential procedure and rigorous improvisational method, as essential repertoire on the way from general malaise to general strike. But then this conception folds tightly yet disorderly into a new and open set of questions. It's not that the raging, ragged entrance to the new golden age is the new golden age. It's not that theory can't bear a riot. It's just that riot makes new ways of seeing what theory can and can't do and imposes upon us a kind of knowledge of our own embarrassing and already given resources of enjoyment. Joshua Clover says riot deserves a proper theory but here—sly, stone cold—he gives us more than that. Now we have some guidelines for the new and ongoing impropriety that fleshes forth and fleshes out our optimal condition."
—Fred Moten, scholar, activist, poet and author of In the Break: The Aesthetics of the Black Radical Tradition and The Undercommons: Fugitive Planning and Black Study

"In its sweep, rigor, and elegance, Riot. Strike. Riot. is pleasurable and provocative, worthy of the urgent debates it should inspire."
—Jeff Chang, author of Can't Stop Won't Stop: A History of the Hip-Hop Generation and Who We Be: The Colorization of America

"Riot. Strike. Riot. is the crystalline analysis of this fraught moment—between communism and anarchism, between street protest and economic strike. Clover's text is clear without being simple, contemporary yet historical, and affectionate without being mawkish—much like a riot, in fact, it opens up the future while remembering that the past is comprised of little other than exploitation, exclusion and the kinds of violence that deliberately are attributed to the very people who suffer most from it."
—Nina Power, senior lecturer in philosophy at Roehampton University and author of One-Dimensional Woman

"Frisky, audacious … Riot. Strike. Riot screams across the sky of our electoral theater."
—Michael Robbins, Chicago Tribune

"One of the liveliest, sharpest, and erudite cultural theorists in the US."
—Charles Mudede, The Stranger

"[Riot. Strike. Riot] thrills. It elucidates and, in a way, valorizes a taboo fixture of the political arena in an era of seemingly perpetual economic crisis and withering patience for mere reform."
—Sam Lefebvre, East Bay Express

"Phenomenal … The genius of Riot. Strike. Riot lies in its concise and historically confident analysis of riots."
—Justin Slaughter, Public Books

"Joshua Clover provides a history of the present that is at once erudite and militant. In unfailingly elegant prose he not only traces where today's struggles came from but also proposes how they can chart the path to a new future."
—Michael Hardt, co-author of Assembly

"If communism is, as Marx wrote, 'the real movement which abolishes the present state of things,' then Joshua Clover is its most lucid and uncompromising contemporary theorist. Among its many virtues, Riot.Strike.Riot explains how our time of stagnant economic growth, exclusionary state violence, and uprisings of those left without reserves, might be capitalism's end times. In doing so, he challenges all of us who are committed to bending the status quo toward justice to an ambition adequate to its breaking point."
—Nikhil Pal Singh, author of Race and America's Long War

"Why do we find police in places where there was once an economy? This unique book is a brilliant, clearheaded analysis of the historical relation between two forms of struggle, focusing on the riot, a pre-capitalist form returning in the transformed mode of 'riot prime' as one of the most telling forms of our late capitalist present. Along the way, Joshua Clover gives us much needed concepts to deal with the strange new negations we have come to encounter in this moment of waning accumulation—Long Crisis, the production of nonproduction, aerosolized production—as capital shifts its center of gravity to circulation, and nonlabor struggles emerge as the logical form of social conflict based on shared distance from labor markets rather than shared labor conditions. Riot. Strike. Riot. is a theory of riot but as such, crucially, a theory of periodization; it is essential reading for all students of the present."
—Sianne Ngai, author of Our Aesthetic Categories: Zany, Cute, Interesting