Current Availability
WE'VE BEEN WAITING WEEKS FOR THIS ANNOUNCEMENT
WE ARE OPEN FOR BROWSING!!!!!
AVID READER BOOKSTORE BROWSING HOURS:
MONDAY to THURSDAY 10AM - 4PM
FRIDAY to SATURDAY 10AM - 6PM
SUNDAY - CLOSED
AVID & CO TOY STORE BROWSING HOURS:
MONDAY to FRIDAY : 10AM - 5PM
SATURDAY to SUNDAY : CLOSED
WE CAN'T WAIT TO SEE YOUR LITTLE MASKED FACES.
(BUT SERIOUSLY, YOU MUST BE MASKED BECAUSE IT'S THE COUNTY'S RULES)
USE APPROPRIATE SOCIAL DISTANCING PRACTICES WHEN YOU VISIT THE STORE.
HAVE A SPECIFIC BOOK IN MIND? PLEASE CALL 530-758-4040 OR EMAIL ERIN@AVIDREADERBOOKS.COM FOR CURRENT AVAILABILITY - WE CAN CHECK STORE STOCK OR MAKE A SPECIAL ORDER.
GOTTA DO EVERYTHING WE CAN TO KEEP EACH OTHER SAFE!
Edna's Gift: How My Broken Sister Taught Me to Be Whole (Paperback)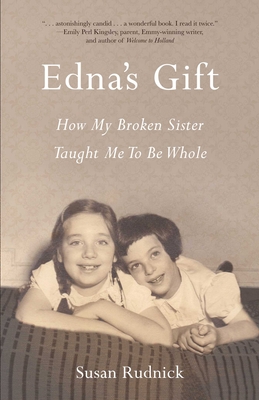 $16.95
Usually Ships in 1-5 Days
Description
---
When they were young, Susan and Edna, children of Holocaust refugee parents, were inseparable; Edna was Susan's first love and constant companion. But as they grew up and Edna's physical, and mental challenges altered the ways she could develop, a gulf formed between them. Susan's life became even more complicated when, just short of her sixteenth birthday, she learned that she'd been born without a uterus and would never menstruate or give birth to children. As she coped with this trauma, Edna continued loving her unconditionally, as she always had. In her adult years Edna lived a life of dignity in a spiritual community, becoming a model for how Susan could live hers. In her forties, Susan realized her dream of motherhood when she adopted a daughter. Throughout, Edna remained a teacher and loving presence in her sister's life. Encompassing Susan and Edna's lifelong, complex, intertwining relationship, Edna's Gift has a powerful message: life may be unpredictable, even traumatic--but if you remain open, strength and wisdom will come to you from surprising and unexpected sources.