Sleight of Hand (Paperback)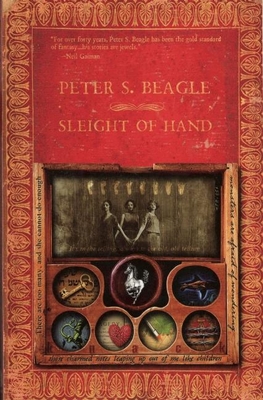 Description
---
Magic is back. Peter S. Beagle returns with an inspired collection of new fantasy that showcases his incomparable mastery and range. In these tales--with settings as different as an impossible reconstruction of the Berlin Wall and the kitchen of Mrs. Eunice Giant (72 Fairweather Lane, East-of-the-Bean, Sussex Overhead)--warriors, monsters, and utterly ordinary people struggle with possession and forgiveness, life and love, hate and death...and the choices that come after everything else has been stripped away by Fate. Inside these pages: --The daughter of the Shark God leaves her Pacific island home, determined to find her mysterious father and hold him accountable for the curse of her own existence. --A dilapidated dragon, a frustrated cop, and an unapologetic author square off over a dangerously abandoned narrative. --An enchantress-to-be sings of power, desire, and the ultimate betrayal of her heart. --In a nothing diner, in a nowhere town, a woman lost in grief learns how to fool Death with one artful shuffle of the deck. Featuring a brand-new Schmendrick tale set before The Last Unicorn, plus twelve other wonderful stories, Sleight of Hand is suffused with a luminous misdirection that moves the soul as much as it fools the eye. Always ready to delight his readers, Beagle proves yet again that he is a master magician.
About the Author
---
Peter S. Beagle is the best-selling author of The Last Unicorn, which has sold a reported five million copies since its initial publication in 1968. His other novels include A Fine & Private Place, The Innkeeper's Song, and Tamsin. His short fiction has been collected in four volumes by Tachyon Publications, including The Rhinoceros Who Quoted Nietzsche, The Line Between, We Never Talk About My Brother, and Sleight of Hand. He has won the Hugo, Nebula, Mythopoeic, and Grand Prix de l'Imaginaire awards and the World Fantasy Award for Lifetime Achievement.
Praise For…
---
"Peter is one of those writers who just seems to be getting better and better."  Neil Gaiman, author, The Graveyard Book

"Few can match [Beagle] when it comes to a particular mix of the fantastic and the ordinary, with a tinge of nostalgia. As one character observes, the magic is in the telling, always." Interzone

"One of my favorite writers."  Madeleine L'Engle, author, A Wrinkle in Time


"[Beagle is] not only one of our greatest fantasists, but one of our greatest writers, a magic realist worthy of consideration with such writers as Marquez, Allende, and even Borges." The American Culture (March 2011)
"Each piece bridges the rich intersection of fantasy and fairy tale, reality and possibility. . . . Short story and fantasy lovers will devour these tasty tidbits that whet the appetite for more."
Library Journal Online
(April 18, 2011)
"[An] engaging and wide-ranging selection of fantasies . . . the perfect book." www.StrangeHorizons.com (September 18, 2011)
"He brings the fantastic into our everyday world and makes it real."
Booklist
(May 2011)
"Wise, warm and deep."
New York Times
(June 5, 2011)