Current Availability
WE'VE BEEN WAITING WEEKS FOR THIS ANNOUNCEMENT
WE ARE OPEN FOR BROWSING!!!!!
AVID READER BOOKSTORE BROWSING HOURS:
MONDAY to THURSDAY 10AM - 4PM
FRIDAY to SATURDAY 10AM - 6PM
SUNDAY - CLOSED
AVID & CO TOY STORE BROWSING HOURS:
MONDAY to FRIDAY : 10AM - 5PM
SATURDAY to SUNDAY : CLOSED
WE CAN'T WAIT TO SEE YOUR LITTLE MASKED FACES.
(BUT SERIOUSLY, YOU MUST BE MASKED BECAUSE IT'S THE COUNTY'S RULES)
USE APPROPRIATE SOCIAL DISTANCING PRACTICES WHEN YOU VISIT THE STORE.
HAVE A SPECIFIC BOOK IN MIND? PLEASE CALL 530-758-4040 OR EMAIL ERIN@AVIDREADERBOOKS.COM FOR CURRENT AVAILABILITY - WE CAN CHECK STORE STOCK OR MAKE A SPECIAL ORDER.
GOTTA DO EVERYTHING WE CAN TO KEEP EACH OTHER SAFE!
Save the Jellywonkers!: Help Keep Our Oceans Clean (Paperback)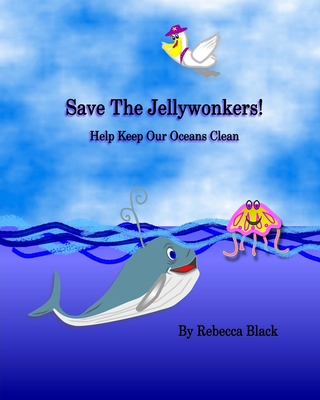 $9.95
Usually Ships in 1-5 Days
Description
---
Jellywonkers are unique, colorful sea creatures. Besides cleaning the ocean floor and seamounts, Jellywonkers love to learn and travel. Save the Jellywonkers is about Ted's travels with his two friends Humphrey and Maud. Ted is a Jellywonker, Humphrey a humpback whale and Maud is a pelican. Together they discover the beauty and some unhealthy environmental issues affecting our oceans. Each Jellywonker Adventure is more than just an enjoyable story for young children; each is an educational tome including factoids and a call for action. In this particular book, Save the Jellywonkers, we learn about geography and a number of sea creatures. Save the Jellywonkers Help Keep Our Oceans Clean Please visit Rebecca's Author Page for a full list of all her books. https: //www.amazon.com/Rebecca-Black/e/B00JCXT5XO/
About the Author
---
Rebecca Black is a retired elementary school teacher and an author of more than 35 books. As an etiquette expert and consultant with 20+ years of experience, she focused on various etiquette topics. Ted, however, wanted out of her head and wouldn't allow Rebecca to write anything else until his story was told. Here, we begin Ted's journeys with his two best friends Humphrey and Maud.