Current Availability
WE'VE BEEN WAITING WEEKS FOR THIS ANNOUNCEMENT
WE ARE OPEN FOR BROWSING!!!!!
AVID READER BOOKSTORE BROWSING HOURS:
MONDAY to THURSDAY 10AM - 4PM
FRIDAY to SATURDAY 10AM - 6PM
SUNDAY - CLOSED
AVID & CO TOY STORE BROWSING HOURS:
MONDAY to FRIDAY : 10AM - 5PM
SATURDAY to SUNDAY : CLOSED
WE CAN'T WAIT TO SEE YOUR LITTLE MASKED FACES.
(BUT SERIOUSLY, YOU MUST BE MASKED BECAUSE IT'S THE COUNTY'S RULES)
USE APPROPRIATE SOCIAL DISTANCING PRACTICES WHEN YOU VISIT THE STORE.
HAVE A SPECIFIC BOOK IN MIND? PLEASE CALL 530-758-4040 OR EMAIL ERIN@AVIDREADERBOOKS.COM FOR CURRENT AVAILABILITY - WE CAN CHECK STORE STOCK OR MAKE A SPECIAL ORDER.
GOTTA DO EVERYTHING WE CAN TO KEEP EACH OTHER SAFE!
The Last Laugh: A Novel (Paperback)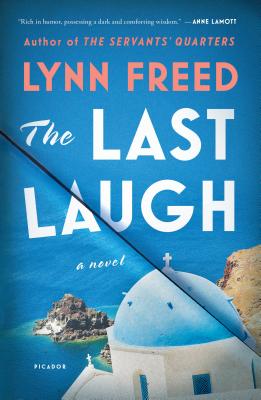 Description
---
A witty new novel about three self-proclaimed "old bags" who run off to a Greek island
Since their children left home, Ruth, Dania, and Bess have grown used to living wonderfully free lives. Only now they're beset by children again—this time, their grandchildren. In order to escape, they decide to run away to Greece together for a year.
At first, settled on a glorious island, barefoot and contented, they think they've rediscovered the wheel. But then things begin to go awry. Dionysus, a local poet, takes up with Bess, at least until his wife gets wind of things. Dania, a therapist, is being stalked by one of her patients. And Ruth's ex-lover turns up out of the blue, closely followed by the man who lost Bess her fortune. It doesn't help when the children and grandchildren also start turning up whenever they feel like it. As Bess writes in one of Ruth's weekly "Granny à Go Go" columns, this is not an Enchanted April sort of year.
Lynn Freed's previous novels have received rave reviews everywhere from The New York Times Book Review ("Makes us laugh while packing, finally, a punch"), to the Los Angeles Times Book Review ("Deeply absorbing and ambitious . . . Astonishingly vivid"). In The Last Laugh she returns with a beautifully written and funny novel about money, sex, friendship, and the pleasures and perils of children.
About the Author
---
Lynn Freed is the author of numerous short stories, essays, and novels, including The Last Laugh and Home Ground. Her short fiction and essays have appeared in The New Yorker, Harper's, The Atlantic Monthly, among many others. She is the recipient of the inaugural Katherine Anne Porter Award from the American Academy of Arts and Letters, two PEN/O. Henry Awards, and has received fellowships and grants from the National Endowment for the Arts and The Guggenheim Foundation, among others.
Praise For…
---
PRAISE FOR THE LAST LAUGH
"Beautifully paced . . . If on it's surface The Last Laugh is a warts-and-all repudiation of the late-in-life female empowerment yarn as typified by the movie Enchanted April . . .the gimlet-eyed Freed is intent on something deeper and more unsettling . . . Freed's candor works to lift the veil off the misperception that life after 60 consists mostly of conversations about sciatica or ceaseless and slightly abject devotion to a tiny, shivery dog." —Henry Alford, The New York Times Book Review
"Smart and sprightly in style . . . Hilarious . . . a Campari spritzer of a novel: bubbly and colorful, but with a underlying note of bitterness to add satisfying complexity." —Maureen Corrigan, NPR
"Fast-moving and laced with salty wit, this is a smart, funny summer read" —People
"Superb . . . Freed nimbly dramatizes the strengths and flaws of the women as they discover freedom from work and family." —San Francisco Chronicle
"[A] perfect summer read for anyone who loved Delia Ephron's Siracusa or Emma Straub's The Vacationers. Freed's narrative style is delightful . . . And the characters are relatable, bickering and compromising and loving each other all the same. Sun-dappled and sea-splashed, this is the best type of escapism." —Booklist
"[A] slyly delivered version of a novel of women's self-actualization . . . Fraught relationships between mothers and daughters, grandmothers and grandchildren, and men and women are explored and detailed against the backdrop of usually perfect scenery . . . Replete with references to Greek mythology, Freed's modern retelling of a timeless tale of self-fulfillment wanders into surprising territory along the way." —Kirkus
"Drily whimsical." —Publishers Weekly
"I devoured The Last Laugh in one delightful sitting. With fine style, a true heart, and coruscating wit, Freed simultaneously skewers and celebrates old age, friendship, family, romance, and work, and into the bargain delivers the most brilliant cliché-busting riff ever written." —Ann Patty, author of Living with a Dead Language
"Hilarious and wise, this sublime novel shows us how the familiar is transformed by explosive events, in a world where bonds are deepened and lifelong mistakes are redeemed. The Last Laugh is a delight." —Maria Flook, author of Mothers and Lovers and the New York Times bestseller Invisible Eden
PRAISE FOR LYNN FREED
"Like any successful star, [Freed] knows her strengths and how to employ them."
—Claire Messud, The New York Times Book Review
"[Freed] wonderfully carries off that hardest of all literary effects—it feels effortless and therefore absolutely real." —Elaina Richardson, Elle
"Lynn Freed is a beautiful writer, dead-on brilliant, rich in humor, possessing a dark and comforting wisdom." —Anne Lamott