Current Availability
CURBSIDE PICKUP NOW AVAILABLE!!!!
AVID READER BOOKSTORE CURBSIDE HOURS:
MONDAY to THURSDAY 10AM - 4PM
FRIDAY to SATURDAY 10AM - 6PM
SUNDAY - CLOSED
AVID & CO TOY STORE CURBSIDE HOURS:
MONDAY to FRIDAY : 10AM - 5PM
SATURDAY to SUNDAY : CLOSED
WE CAN'T WAIT TO SEE YOUR LITTLE MASKED FACES.
USE APPROPRIATE SOCIAL DISTANCING PRACTICES WHEN YOU VISIT THE STORE.
HAVE A SPECIFIC BOOK IN MIND? PLEASE CALL 530-758-4040 OR EMAIL ERIN@AVIDREADERBOOKS.COM FOR CURRENT AVAILABILITY - WE CAN CHECK STORE STOCK OR MAKE A SPECIAL ORDER.
GOTTA DO EVERYTHING WE CAN TO KEEP EACH OTHER SAFE!
A Deadly Measure of Brimstone: A Dandy Gilver Mystery (Hardcover)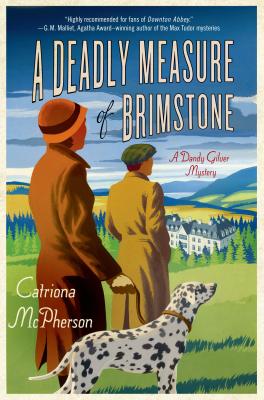 Other Books in Series
This is book number 4 in the Dandy Gilver series.
Description
---
Catriona McPherson's critically acclaimed mystery series set in 1920s Scotland and featuring plucky and laugh-out-loud-funny heroine Dandy Gilver is perfect for fans of PG Wodehouse, Dorothy L Sayers, and Agatha Christie.
In A Deadly Measure of Brimstone, Dandy and the whole Gilver clan travel to a spa town for a weekend of relaxation which is quickly interrupted by a slew of mysterious— and deadly—events.
The men of the Gilver family have come down, between them, with influenza, bronchitis, pneumonia and pleurisy. The family repairs to the town of Moffat, there to submit to the galvanic wraps and cold salt rubs of the splendid Laidlaw Hydropathic Hotel.
But all is not well at the Hydro, and the secret of the lady who arrived but never left cannot be kept for long. And what of those drifting shapes in the Turkish bath? Just steam shifting in the air? Probably. But in this town the dead can be as much trouble as the living.
About the Author
---
CATRIONA MCPHERSON was born near Edinburgh. Dandy Gilver and The Proper Treatment of Bloodstains won the Sue Feder Memorial Award in 2012 and Dandy Gilver and An Unsuitable Day for A Murder won the Agatha for Best Historical Novel in the same year. The series won the Bruce Alexander Award in 2013 and 2014, and Catriona was once again awarded the Agatha for Best Historical Novel in 2017 for Dandy Gilver and the Reek of Red Herrings. Catriona lives in Davis, California, with her husband and two cats.
Praise For…
---
"I adore Dandy Gilver. Catriona McPherson's story captures an era, a class, and our hearts." —Laurie R. King, author of The Beekeeper's Apprentice and The Bones of Paris
"The writing is pitch perfect and brilliantly funny. Dandy Gilver is a joy." —Frances Brody, author of the Kate Shackleton Mystery series
"A delightful romp, you'll have the time of your life." —Victoria Thompson, author of Murder in Murray Hill
"Dandy Gilver is marvelously, hopelessly, hilariously wonderful. If you haven't discovered Catriona McPherson yet, it's time to start!" —Charles Todd, author of the Inspector Ian Rutledge Mystery series
"The funniest in this delightful series . . . confirms McPherson as the queen of historical whodunits." —Hannah Dennison, author of The Vicky Hill Mysteries and Murder at Honeychurch Hall
"Agatha Christie meets Upstairs Downstairs . . . [For] fans of Phryne Fisher and Maisie Dobbs." —Publishers Weekly
"Witty, humorous, and thoroughly good." —M.C. Beaton
"Guaranteed to appeal to those who never got over the death of Dorothy L. Sayers." —Financial Times (UK)
"Dandy Gilver is enthralling; part Dorothy Parker, part Miss Marple, utterly engaging." —Kirsty Scott, author of Mother's Day
"A bit P.G. Wodehouse, a little Patricia Wentworth, a lot Maisie Dobbs… Read this: if you liked Gosford Park, Upstairs, Downstairs, Downton Abbey, Jacqueline Winspear or P.G. Wodehouse." —The Picky Girl blog
"Charming. Clever. Hilarious. Ingenious. Adorable. Brilliantly embraces the Golden Age of mystery." —Hank Phillippi Ryan, Anthony, Agatha and Macavity-winning author of The Other Woman
"Not since Maisie Dobbs first surfaced has there been a pluckier or more winning heroine." —Charles Finch, author of The Fleet Street Murders