Current Availability
CURBSIDE PICKUP NOW AVAILABLE!!!!
AVID READER BOOKSTORE CURBSIDE HOURS:
MONDAY to THURSDAY 10AM - 4PM
FRIDAY to SATURDAY 10AM - 6PM
SUNDAY - CLOSED
AVID & CO TOY STORE CURBSIDE HOURS:
MONDAY to FRIDAY : 10AM - 5PM
SATURDAY to SUNDAY : CLOSED
WE CAN'T WAIT TO SEE YOUR LITTLE MASKED FACES.
USE APPROPRIATE SOCIAL DISTANCING PRACTICES WHEN YOU VISIT THE STORE.
HAVE A SPECIFIC BOOK IN MIND? PLEASE CALL 530-758-4040 OR EMAIL ERIN@AVIDREADERBOOKS.COM FOR CURRENT AVAILABILITY - WE CAN CHECK STORE STOCK OR MAKE A SPECIAL ORDER.
GOTTA DO EVERYTHING WE CAN TO KEEP EACH OTHER SAFE!
Girls and Their Comics: Finding a Female Voice in Comic Book Narrative (Hardcover)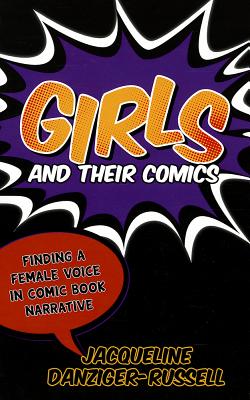 Email or call for price.
Usually Ships in 1-5 Days
Description
---
In America, comics and comic books have often been associated with adolescent male fantasy--muscle-bound superheroes and scantily clad women. Nonetheless, comics have also been read and enjoyed by girls. While there have been many strong representations of women throughout their history, the comics of today have evolved and matured, becoming a potent medium in which to explore the female experience, particularly that of girlhood and adolescence. In Girls and Their Comics: Finding a Female Voice in Comic Book Narrative, Jacqueline Danziger-Russell contends that comics have a unique place in the representation of female characters. She discusses the overall history of the comic book, paying special attention to girls' comics, showing how such works relate to a female point of view. While examining the concept of visual literacy, Danziger-Russell asserts that comics are an excellent space in which the marginalized voices of girls may be expressed. This volume also includes a chapter on manga (Japanese comics), which explains the genesis of girls' comics in Japan and their popularity with girls in the United States. Including interviews with librarians, comic creators, and girls who read comics and manga, Girls and Their Comics is an important examination of the growing interest in comic books among young females and will appeal to a wide audience, including literary theorists, teachers, librarians, popular culture and women's studies scholars, and comic book historians.
About the Author
---
Jacqueline Danziger-Russell has an MA in Children's Literature from Roehampton University, London.