Current Availability
WE'VE BEEN WAITING WEEKS FOR THIS ANNOUNCEMENT
WE ARE OPEN FOR BROWSING!!!!!
AVID READER BOOKSTORE BROWSING HOURS:
MONDAY to THURSDAY 10AM - 4PM
FRIDAY to SATURDAY 10AM - 6PM
SUNDAY - CLOSED
AVID & CO TOY STORE BROWSING HOURS:
MONDAY to FRIDAY : 10AM - 5PM
SATURDAY to SUNDAY : CLOSED
WE CAN'T WAIT TO SEE YOUR LITTLE MASKED FACES.
(BUT SERIOUSLY, YOU MUST BE MASKED BECAUSE IT'S THE COUNTY'S RULES)
USE APPROPRIATE SOCIAL DISTANCING PRACTICES WHEN YOU VISIT THE STORE.
HAVE A SPECIFIC BOOK IN MIND? PLEASE CALL 530-758-4040 OR EMAIL ERIN@AVIDREADERBOOKS.COM FOR CURRENT AVAILABILITY - WE CAN CHECK STORE STOCK OR MAKE A SPECIAL ORDER.
GOTTA DO EVERYTHING WE CAN TO KEEP EACH OTHER SAFE!
Blessed Among Nations: How the World Made America (Paperback)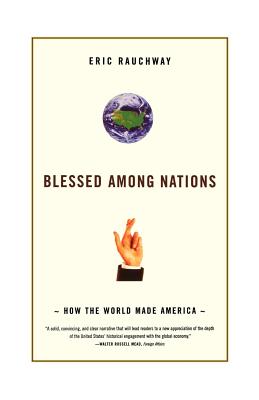 $19.00
Usually Ships in 1-5 Days
Description
---
Nineteenth-century globalization made America exceptional. On the back of European money and immigration, America became an empire with considerable skill at conquest but little experience administering other people's, or its own, affairs, which it preferred to leave to the energies of private enterprise. The nation's resulting state institutions and traditions left America immune to the trends of national development and ever after unable to persuade other peoples to follow its example.
In this concise, argumentative book, Eric Rauchway traces how, from the mid-1800s to the early 1900s, the world allowed the United States to become unique and the consequent dangers we face to this very day.
About the Author
---
A professor of history at the University of California, Davis, Eric Rauchway is the author of Murdering McKinley: The Making of Theodore Roosevelt's America (H&W, 2003) and Blessed Among Nations (H&W, 2006). He lives in northern California.
Praise For…
---
"Rauchway's book is right on time and right on target." —Kirkus Reviews
"Provocative . . . Blessed Among Nations combines the same fluid writing style, bold interpretive approach, and ambitious agenda that made the work of mid-twentieth-century historians like Richard Hofstadter, Arthur Schlesinger, Jr., and C. Vann Woodward so important and so broadly relevant." —American Heritage