Current Availability
WE'VE BEEN WAITING WEEKS FOR THIS ANNOUNCEMENT
WE ARE OPEN FOR BROWSING!!!!!
AVID READER BOOKSTORE BROWSING HOURS:
MONDAY to THURSDAY 10AM - 4PM
FRIDAY to SATURDAY 10AM - 6PM
SUNDAY - CLOSED
AVID & CO TOY STORE BROWSING HOURS:
MONDAY to FRIDAY : 10AM - 5PM
SATURDAY to SUNDAY : CLOSED
WE CAN'T WAIT TO SEE YOUR LITTLE MASKED FACES.
(BUT SERIOUSLY, YOU MUST BE MASKED BECAUSE IT'S THE COUNTY'S RULES)
USE APPROPRIATE SOCIAL DISTANCING PRACTICES WHEN YOU VISIT THE STORE.
HAVE A SPECIFIC BOOK IN MIND? PLEASE CALL 530-758-4040 OR EMAIL ERIN@AVIDREADERBOOKS.COM FOR CURRENT AVAILABILITY - WE CAN CHECK STORE STOCK OR MAKE A SPECIAL ORDER.
GOTTA DO EVERYTHING WE CAN TO KEEP EACH OTHER SAFE!
Murdering McKinley: The Making of Theodore Roosevelt's America (Paperback)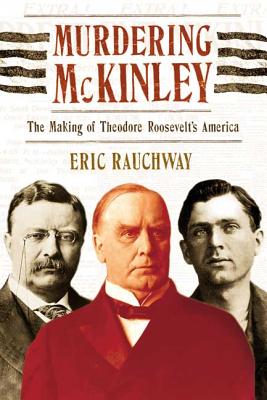 $17.00
Usually Ships in 1-5 Days
Description
---
When President William McKinley was murdered at the Pan-American Exposition in Buffalo, New York, on September 6, 1901, Americans were bereaved and frightened. Rumor ran rampant: A wild-eyed foreign anarchist with an unpronounceable name had killed the commander-in-chief. Eric Rauchway's brilliant Murdering McKinley restages Leon Czolgosz's hastily conducted trial and then traverses America with Dr. Vernon Briggs, a Boston alienist who sets out to discover why Czolgosz rose up to kill his president.
About the Author
---
A professor of history at the University of California, Davis, Eric Rauchway is the author of Murdering McKinley: The Making of Theodore Roosevelt's America (H&W, 2003) and Blessed Among Nations (H&W, 2006). He lives in northern California.
Praise For…
---
"A fascinating story of America at a crossroads . . . Murdering McKinley stands out as a well-reasoned and well-told chronicle about the dawn of modern America." —Bob Hoover, Post-Gazette
"A compact masterpiece that explains more about the late 19th Century than most historians know and yet is readable enough to take on an airplane . . . Accurate, comprehensive and cutting-edge history, it is also a rip-roaring tale...a book that holds high the standard for popular history. Illuminating the society that inspired a coldblooded murder, Rauchway's Murdering McKinley is a brilliant trip through the heart of the 19th Century." —Heather Cox Richardson, Chicago Tribune
"Eric Rauchway is that rare historian who is also a first-rate storyteller. Murdering McKinley is almost as impressive a literary feat as it is a scholarly one; a fascinating window on a turbulent time in our untold history and a damn good read to boot." —Eric Alterman, author of What Liberal Media? The Truth About Bias and the News
"Before Lee Harvey Oswald there was Leon Czolgosz (chol-gosh), the anarchist who shot and killed President William McKinley in 1901. Murdering McKinley tells the story of this assassin and the push he gave to progressivism by making Teddy Roosevelt president of the United States." —Bruce Ramsey, The Seattle Times