Current Availability
WE'VE BEEN WAITING WEEKS FOR THIS ANNOUNCEMENT
WE ARE OPEN FOR BROWSING!!!!!
AVID READER BOOKSTORE BROWSING HOURS:
MONDAY to THURSDAY 10AM - 4PM
FRIDAY to SATURDAY 10AM - 6PM
SUNDAY - CLOSED
AVID & CO TOY STORE BROWSING HOURS:
MONDAY to FRIDAY : 10AM - 5PM
SATURDAY to SUNDAY : CLOSED
WE CAN'T WAIT TO SEE YOUR LITTLE MASKED FACES.
(BUT SERIOUSLY, YOU MUST BE MASKED BECAUSE IT'S THE COUNTY'S RULES)
USE APPROPRIATE SOCIAL DISTANCING PRACTICES WHEN YOU VISIT THE STORE.
HAVE A SPECIFIC BOOK IN MIND? PLEASE CALL 530-758-4040 OR EMAIL ERIN@AVIDREADERBOOKS.COM FOR CURRENT AVAILABILITY - WE CAN CHECK STORE STOCK OR MAKE A SPECIAL ORDER.
GOTTA DO EVERYTHING WE CAN TO KEEP EACH OTHER SAFE!
Madonna Anno Domini (Paperback)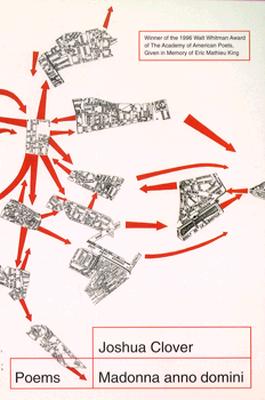 Description
---
In his first collection, Joshua Clover presents a harrowing poetic manifesto for the coming century. Clover fuses formal control, a solid grounding in poetic tradition (his allusions range from Shakespeare to Dickinson to John Cale), and sheer visionary exhilaration into a technical, moral, aesthetic, and imaginative lexicon that irradiates each page.
The eerie cyberglow of Clover's lines illuminates a pageant of blurred and fragmented desolation: the Bomb, death camps, the Persian Gulf War, the beating of Rodney King, the whole numbing litany of modern horrors. Clover is a master of poetic shorthand, of the stark, unnerving image as immediate as yellow tape at a crime scene.
Madonna anno domini is a sacrament for the twilight of the atomic age, a hellish Interzone with "God in abeyance" where dazed speakers search through the vertigo of negation for love and belief. And here. in this utterly convincing vision of a world whose center has long since lost its hold, we see the life on whose brink we, at the end of the millennium, find ourselves poised.