Current Availability
WE'VE BEEN WAITING WEEKS FOR THIS ANNOUNCEMENT
WE ARE OPEN FOR BROWSING!!!!!
AVID READER BOOKSTORE BROWSING HOURS:
MONDAY to THURSDAY 10AM - 4PM
FRIDAY to SATURDAY 10AM - 6PM
SUNDAY - CLOSED
AVID & CO TOY STORE BROWSING HOURS:
MONDAY to FRIDAY : 10AM - 5PM
SATURDAY to SUNDAY : CLOSED
WE CAN'T WAIT TO SEE YOUR LITTLE MASKED FACES.
(BUT SERIOUSLY, YOU MUST BE MASKED BECAUSE IT'S THE COUNTY'S RULES)
USE APPROPRIATE SOCIAL DISTANCING PRACTICES WHEN YOU VISIT THE STORE.
HAVE A SPECIFIC BOOK IN MIND? PLEASE CALL 530-758-4040 OR EMAIL ERIN@AVIDREADERBOOKS.COM FOR CURRENT AVAILABILITY - WE CAN CHECK STORE STOCK OR MAKE A SPECIAL ORDER.
GOTTA DO EVERYTHING WE CAN TO KEEP EACH OTHER SAFE!
The California Republic: Institutions, Statesmanship, and Policies (Paperback)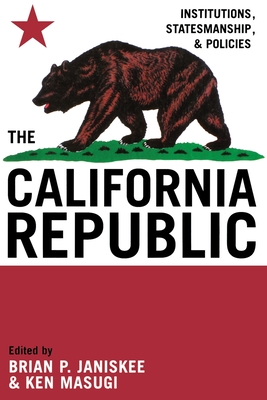 Email or call for price.
Usually Ships in 1-5 Days
Description
---
Even before its budget crisis and recall election, California held a unique position in the United States. Often lauded as having the fifth largest economy in the world, California leads the nation in other measures as well, particularly cultural and political trends. But were it an independent state, it would have one of the world's most unusual democracies. In The California Republic Brian P. Janiskee and Ken Masugi bring together a diverse group of contributors to shed light on the Progressive nature of California government. In addition to thorough treatment of perennial issues like affirmative action, gun control, and education, the work goes outside the conventional understanding of political issues to examine such topics as the Hollywood western, the electronic media, and California's revolutionary founding. Accordingly, the contributors include not only political scientists and historians, but journalists and political activists as well. The result is a clear exploration of the evolution of Progressive government in California and its contemporary policy consequences.
About the Author
---
Brian P. Janiskee is assistant professor of political science at California State University, San Bernardino. Ken Masugi is the director of the Center for Local Government at the Claremont Institute.