Current Availability
WE'VE BEEN WAITING WEEKS FOR THIS ANNOUNCEMENT
WE ARE OPEN FOR BROWSING!!!!!
AVID READER BOOKSTORE BROWSING HOURS:
MONDAY to THURSDAY 10AM - 4PM
FRIDAY to SATURDAY 10AM - 6PM
SUNDAY - CLOSED
AVID & CO TOY STORE BROWSING HOURS:
MONDAY to FRIDAY : 10AM - 5PM
SATURDAY to SUNDAY : CLOSED
WE CAN'T WAIT TO SEE YOUR LITTLE MASKED FACES.
(BUT SERIOUSLY, YOU MUST BE MASKED BECAUSE IT'S THE COUNTY'S RULES)
USE APPROPRIATE SOCIAL DISTANCING PRACTICES WHEN YOU VISIT THE STORE.
HAVE A SPECIFIC BOOK IN MIND? PLEASE CALL 530-758-4040 OR EMAIL ERIN@AVIDREADERBOOKS.COM FOR CURRENT AVAILABILITY - WE CAN CHECK STORE STOCK OR MAKE A SPECIAL ORDER.
GOTTA DO EVERYTHING WE CAN TO KEEP EACH OTHER SAFE!
Waltzing the Cat (Paperback)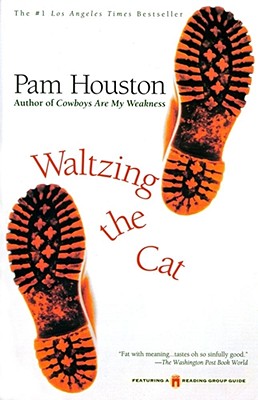 Description
---
Relationships and extreme adventures collide with deadpan humor and female wisdom in Pam Houston's transcendent follow-up to her bestselling Cowboys Are My Weakness. Through eleven interlinked stories, we follow roving photographer Lucy O'Rourke as she survives a home life where her parents engage in rather peculiar feeding rites for the family cat in a "title story that deserves to be anthologized into eternity" (The Washington Post Book World), a near-drowning on a white water rafting trip, and a grand cayman attack in the Amazon. All the while her search for love continues with a string of rugged, exciting, and usually, it seems, inappropriate men. While it's not always easy for Lucy to find success in either the great outdoors or love, she rolls with the punches, never losing her sassy wit. When a surprise encounter with Carlos Castaneda at an airport boarding gate sets off a series of synchronistic events that lead Lucy to Hope, Colorado, and the life she has been searching for, we know that "Houston's triumph is that she has come to know the quieter adventures of the heart" (Arizona Republic).
Praise For…
---
The Washington Post Book World Fat with meaning...tastes oh so sinfully good.



Portland Oregonian Self-assured and self-revealing, Waltzing The Cat will gratify Pam Houston's many admirers, and it will lure plenty of new readers out into her wild rivers.



Seattle Weekly Raw and unflinching....



Denver Post Pam Houston's stories are compelling...funny and real....A book that remains fresh from beginning to end.



Jon Krakauer Pam Houston's beautifully constructed sentences are peppered with observations that reveal us to ourselves in an unexpected, occasionally shocking light. And she writes with a sharp, subtle wit. Waltzing the Cat is a delight to read.



Amy Bloom Pam Houston makes the page disappear. We are in the small town of Hope, Colorado, sitting in the kitchen of the ranch that is forever sliding into the Rio Grande. We sail to Isla de la Plata to see the blue-footed boobies and let the rivers teach us how to live. Houston takes us up and down the coast of America with bad parents and good times, with beautiful men and wild impulses, and all the time she is telling us new stories: funny, sad, compassionate, and true as secrets whispered between friends at night.



Terry Tempest Williams Consider Waltzing the Cat an homage to the Equinox: equal dark, equal light; a book of truce. I love these fictions. I love Pam Houston. I love the inherent growth and confidence in this new work.



Albuquerque Journal Houston brings her characters to life with dialogue and situations that are always believable but almost never predictable...you'll be fed by lingering thoughts of the characters and relationships within this impressive collection.



The Plain Dealer (Cleveland) Houston is a master of the deadpan sentence...this book is an impressive and creative marriage of two literary genres that couldn't be more at odds: the intimate self-exposure of traditionally female confessional writing with the laconic stoicism of the traditional male western.



BookPage Pam Houston...returns to the subject of relationships in her captivating new book...[and] teaches us that hope and redemption are always possible -- and sometimes found in the most unlikely places.