Current Availability
WE'VE BEEN WAITING WEEKS FOR THIS ANNOUNCEMENT
WE ARE OPEN FOR BROWSING!!!!!
AVID READER BOOKSTORE BROWSING HOURS:
MONDAY to THURSDAY 10AM - 4PM
FRIDAY to SATURDAY 10AM - 6PM
SUNDAY - CLOSED
AVID & CO TOY STORE BROWSING HOURS:
MONDAY to FRIDAY : 10AM - 5PM
SATURDAY to SUNDAY : CLOSED
WE CAN'T WAIT TO SEE YOUR LITTLE MASKED FACES.
(BUT SERIOUSLY, YOU MUST BE MASKED BECAUSE IT'S THE COUNTY'S RULES)
USE APPROPRIATE SOCIAL DISTANCING PRACTICES WHEN YOU VISIT THE STORE.
HAVE A SPECIFIC BOOK IN MIND? PLEASE CALL 530-758-4040 OR EMAIL ERIN@AVIDREADERBOOKS.COM FOR CURRENT AVAILABILITY - WE CAN CHECK STORE STOCK OR MAKE A SPECIAL ORDER.
GOTTA DO EVERYTHING WE CAN TO KEEP EACH OTHER SAFE!
Brazen (Hardcover)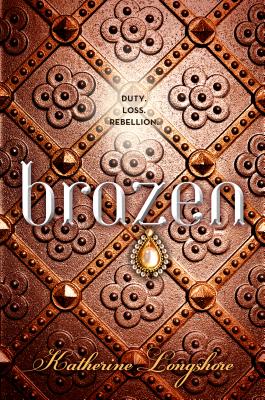 Description
---
Mary Howard has always lived in the shadow of her powerful family. But when she's married off to Henry Fitzroy, King Henry VIII's illegitimate son, she rockets into the Tudor court's inner circle. Mary and Fitz join a tight clique of rebels who test the boundaries of court's strict rules with their games, dares, and flirtations. The more Mary gets to know Fitz, the harder she falls for him, but is forbidden from seeing him alone. The rules of court were made to be pushed but pushing them too far means certain death. Is true love worth dying for?
About the Author
---
Katherine Longshore is also the author of Gilt and Tarnish. She lives in Northern California with three British citizens and one expatriate dog.
Praise For…
---
PRAISE FOR KATHERINE LONGSHORE:

"A more literary version of "Gossip Girl" overlaid onto 16th-century England . . ."—The Los Angeles Times on Gilt   "I found my new favorite series . . . see for yourself why I couldn't put the book down."—MTV.com on Gilt   "A good, juicy story . . . royally riveting for the reader."—Booklist on Gilt   "The raw emotions and unflinching honesty of a young girl caught in a whirlwind of history shine through, keeping readers engaged to the end."—Kirkus on Tarnish   "Swoon overload . . . Funny, witty and entertaining, Tarnish is a must-read for anyone wanting to add invigorating drama and sensual romance to their bookshelf."—MTV.com on Tarnish   "Great for readers of romance, royal fiction and history, or those looking for a summer read that makes them think a bit, too."—Shelf Awareness on Tarnish

"...readers will find themselves both fascinated and terrified as this independent young woman fights to live and love on her own terms." —Booklist on Brazen