Baby Hearts: A Guide to Giving Your Child an Emotional Head Start (Paperback)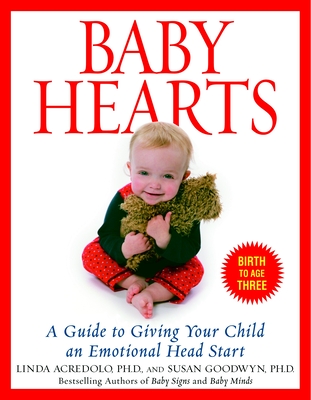 Description
---
Who says your baby can't "talk" about his or her feelings? In fact, babies' actions often speak louder than words! Understanding those actions–and responding appropriately to them–is the key to giving your child a head start to a healthy and happy future. Now the authors of the bestselling Baby Minds and Baby Signs translate the latest research on the rich inner life of babies into practical, fun activities that will foster your child's emotional skills during the most critical period–between birth and age three. This comprehensive guide will help you help your child express emotions effectively, develop empathy, form healthy friendships, and cope with specific challenges. Learn how to:

•Talk with your child about emotions in order to help him recognize and control his own
•Use face-to-face interaction, tone of voice, song, and touch to make your infant feel safe and secure
•Start a gratitude journal to help your child appreciate the good things in life
•Nurture self-esteem with "try, try again" activities and simple chores
•Create a "What are they feeling" deck of cards to help your child understand and practice emotions
•Use games and songs to help your child practice self-control
•Overcome temper tantrums, aggression, shyness, separation anxiety, and other challenges

Whether your child is as easy to raise as a sunflower, as difficult as the prickly holly bush, requires the patience of the delicate orchid, or is as active as the exuberant dandelion, Baby Hearts helps you provide the
emotional support that may be the most important gift a parent can give.
About the Author
---
Linda Acredolo, Ph.D. is emeritus professor of psychology at the University of California, Davis. Dr. Acredolo received her Ph.D. from the Institute of Child Development at the University of Minnesota. She has served as an editor of Child Development and as an officer of the prestigious Society for Research in Child Development.

Susan Goodwyn, Ph.D. is professor of Psychology and Child Development at California State University, Stanislaus, where she has served as Project Director for several longitudinal research projects. Dr. Goodwyn earned her Ph.D. as a Developmental Psychologist at the University of California, Davis.

Drs. Acredolo and Goodwyn have received numerous research grants, most notably from the National Institutes of Child Health and Development. They have published over 50 scholarly articles and have presented at over 75 national and international research meetings. Their pioneering research into infant and toddler development led them to co-author the 400,000-copy bestselling book Baby Signs (Contemporary Books, 1996, revised edition 2002) and Baby Minds (Bantam, 2000), as well as to found Baby Signs, Inc. in 2001. BABY HEARTS will be the third volume in the series.
Praise For…
---
"Healthy emotional development is at the core of all learning.  Parents who read "Baby Hearts" will become masters at understanding their young children's feelings and how to foster their positive relationships, self-esteem, and emotional control.  Engaging, practical, and scientifically-based, "Baby Hearts" is a terrific book for all parents."—Lise Eliot, author of What's Going On in There? How the Brain and Mind Develop in the First Five Years of Life

"This is a vivid, illuminating, and wise portrayal of emotional development in the early years.  These gifted authors highlight the importance of close relationships for the unfolding of personality, self-esteem, and understanding of others."—Ross Thompson, University of California, Davis