Current Availability
WE'VE BEEN WAITING WEEKS FOR THIS ANNOUNCEMENT
WE ARE OPEN FOR BROWSING!!!!!
AVID READER BOOKSTORE BROWSING HOURS:
MONDAY to THURSDAY 10AM - 4PM
FRIDAY to SATURDAY 10AM - 6PM
SUNDAY - CLOSED
AVID & CO TOY STORE BROWSING HOURS:
MONDAY to FRIDAY : 10AM - 5PM
SATURDAY to SUNDAY : CLOSED
WE CAN'T WAIT TO SEE YOUR LITTLE MASKED FACES.
(BUT SERIOUSLY, YOU MUST BE MASKED BECAUSE IT'S THE COUNTY'S RULES)
USE APPROPRIATE SOCIAL DISTANCING PRACTICES WHEN YOU VISIT THE STORE.
HAVE A SPECIFIC BOOK IN MIND? PLEASE CALL 530-758-4040 OR EMAIL ERIN@AVIDREADERBOOKS.COM FOR CURRENT AVAILABILITY - WE CAN CHECK STORE STOCK OR MAKE A SPECIAL ORDER.
GOTTA DO EVERYTHING WE CAN TO KEEP EACH OTHER SAFE!
Baby Minds: Brain-Building Games Your Baby Will Love (Paperback)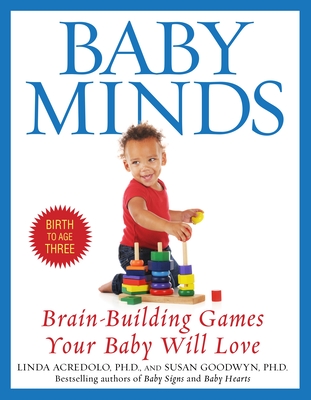 Description
---
More than 65 delightful games and activities to jump-start your baby's amazing brainpower

Can simply singing a song or blowing a dandelion under a toddler's nose help her mind to blossom? Can your baby count, remember events, and solve problems even before he can talk? The exciting answer to both questions is yes!

Breakthrough research is revealing the extraordinary inborn abilities of infants.
It is also showing how experiences during the first years of life profoundly
influence intelligence, creativity, language development-and even later
reading and math skills.

Now two psychologists and child development experts-authors of the bestselling Baby Signs-have created a delightful guide for parents based on the most up-to-date knowledge of how babies discover the world. You'll learn how to:

_ Create a homemade mobile to stimulate your three-month-old's delight in solving problems
_ Play a patty-cake game to help your two-year-old
make logical connections
_ Initiate bedtime conversations that build your child's memory and sense of personal history
_ Develop "Baby Signs" to help your toddler communicate before he or she can talk
_ Stimulate your child's natural number skills with puppets and counting games
_ Use nursery rhymes and special read-aloud techniques to foster reading readiness
_ Nurture budding creativity with humor and fantasy play
_ And much more!

Baby Minds is not another program for creating "super babies." Instead it
builds on activities that babies instinctively love to develop their unique abilities and make your daily interactions full of the joy of discovery-for both of you.
About the Author
---
Linda Acredolo, Ph.D., is a professor of psychology at the University of California, Davis, and has served as associate editor of Child Development, the leading professional research journal, and as secretary of the prestigious Society for Research in Child Development.

Susan Goodwyn, Ph.D., is a professor of psychology and child development at California State University,  Stanislaus, and holds an associate researcher position at
the University of California, Davis.

The authors have received numerous research grants, most notably from the National Institute of Child Health and Human Development, published well over forty scholarly articles and book chapters, and presented research findings in countless settings. They have appeared on Oprah, Dateline NBC, 20/20, and other media, and their first book, Baby Signs, was featured in national parenting publications.