Current Availability
WE'VE BEEN WAITING WEEKS FOR THIS ANNOUNCEMENT
WE ARE OPEN FOR BROWSING!!!!!
AVID READER BOOKSTORE BROWSING HOURS:
MONDAY to THURSDAY 10AM - 4PM
FRIDAY to SATURDAY 10AM - 6PM
SUNDAY - CLOSED
AVID & CO TOY STORE BROWSING HOURS:
MONDAY to FRIDAY : 10AM - 5PM
SATURDAY to SUNDAY : CLOSED
WE CAN'T WAIT TO SEE YOUR LITTLE MASKED FACES.
(BUT SERIOUSLY, YOU MUST BE MASKED BECAUSE IT'S THE COUNTY'S RULES)
USE APPROPRIATE SOCIAL DISTANCING PRACTICES WHEN YOU VISIT THE STORE.
HAVE A SPECIFIC BOOK IN MIND? PLEASE CALL 530-758-4040 OR EMAIL ERIN@AVIDREADERBOOKS.COM FOR CURRENT AVAILABILITY - WE CAN CHECK STORE STOCK OR MAKE A SPECIAL ORDER.
GOTTA DO EVERYTHING WE CAN TO KEEP EACH OTHER SAFE!
Grant: A Novel (Paperback)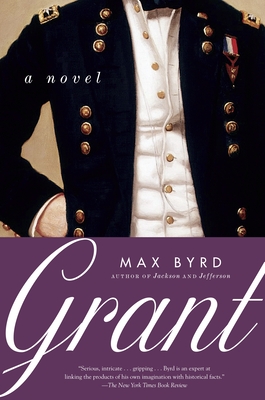 Description
---
Max Byrd, the renowned author of Jackson and Jefferson, brings history to life in this stunning novel set in America's Gilded Age. Grant is an unforgettable portrait of a colorful era—and the flawed, iron-willed, mysterious giant at its center.
 
Ulysses S. Grant pursued a tragic war to its very end. But his final battle starts in 1880, when he loses his race to become the first U.S. President to serve three terms, goes bankrupt, and begins a fight against cancer that will prove to be his greatest challenge. Through journalist Nicholas Trist, readers follow Grant's journey—and along the way meet Grant's sworn enemy Henry Adams and Adams's doomed wife, Clover, the old soldiers Sherman and Sheridan, and the always clever, always scheming Mark Twain. Revealed here are not only the penetrating secrets of our eighteenth president, but the intimate power-brokering that led to the end of Grant's career, setting the stage for a new era in American history—one defined by politics, not warfare.
 
"Serious, intricate . . . gripping . . . Byrd is an expert at linking the products of his own imagination with historical facts."—The New York Times Book Review
 
"With the license and gifts of a first-rate novelist, Max Byrd has managed in Grant to reveal the man far better than those who have tried before."—San Francisco Chronicle
 
"A vibrant, stunning story of Grant's last years, but best of all, a gripping tale of 'the reborn nation on the other side of the war.' "—Civil War Book Review
 
"Splendid . . . nothing less than a visit with greatness."—Associated Press
 
"Historical fiction doesn't get any better than this."—Booklist
About the Author
---
Max Byrd is the acclaimed author of Jefferson, Jackson, Grant, Shooting the Sun, and many other novels. An authority on eighteenth- and nineteenth-century American history, Byrd lives in Davis, California.
Praise For…
---
"Serious, intricate . . . gripping . . . Byrd is an expert at linking the products of his own imagination with historical facts."—The New York Times Book Review
 
"With the license and gifts of a first-rate novelist, Max Byrd has managed in Grant to reveal the man far better than those who have tried before."—San Francisco Chronicle
 
"A vibrant, stunning story of Grant's last years, but best of all, a gripping tale of 'the reborn nation on the other side of the war.' "—Civil War Book Review
 
"Splendid . . . nothing less than a visit with greatness."—Associated Press
 
"Historical fiction doesn't get any better than this."—Booklist