Current Availability
WE'VE BEEN WAITING WEEKS FOR THIS ANNOUNCEMENT
WE ARE OPEN FOR BROWSING!!!!!
AVID READER BOOKSTORE BROWSING HOURS:
MONDAY to THURSDAY 10AM - 4PM
FRIDAY to SATURDAY 10AM - 6PM
SUNDAY - CLOSED
AVID & CO TOY STORE BROWSING HOURS:
MONDAY to FRIDAY : 10AM - 5PM
SATURDAY to SUNDAY : CLOSED
WE CAN'T WAIT TO SEE YOUR LITTLE MASKED FACES.
(BUT SERIOUSLY, YOU MUST BE MASKED BECAUSE IT'S THE COUNTY'S RULES)
USE APPROPRIATE SOCIAL DISTANCING PRACTICES WHEN YOU VISIT THE STORE.
HAVE A SPECIFIC BOOK IN MIND? PLEASE CALL 530-758-4040 OR EMAIL ERIN@AVIDREADERBOOKS.COM FOR CURRENT AVAILABILITY - WE CAN CHECK STORE STOCK OR MAKE A SPECIAL ORDER.
GOTTA DO EVERYTHING WE CAN TO KEEP EACH OTHER SAFE!
Jackson: A Novel (Paperback)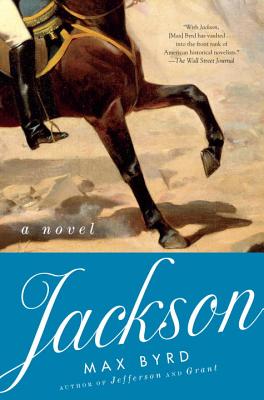 Description
---
In this sweeping, marvelously written novel, Max Byrd, the celebrated author of Jefferson and Grant, presents a superb portrait of Andrew Jackson, a President remembered for his strong will and tempestuous nature—and regarded as "the most dangerous man in America" by none other than Thomas Jefferson.
 
He became a legend during the War of 1812. He was a slave owner, land speculator, and Indian fighter. He stole another man's wife, murdered men in duels, and ordered military executions. But Andrew Jackson was also an impassioned supporter of universal suffrage and an ardent believer in the will of the people. Here the story of our controversial seventh President is told from a variety of viewpoints, including that of a young writer named David Chase who discovers, on the eve of the presidential election, a secret that could change the future of the nation. Along the way, readers encounter such notable figures as John Quincy Adams, Aaron Burr, and Sam Houston, and bear witness to an America in transition—and a man as unpredictable as democracy itself.
 
"Max Byrd's historical novels about the third and seventh presidents bring both men alive in ways that only a literary imagination can."—George F. Will, The Washington Post
 
"With Jackson, [Max] Byrd has vaulted . . . into the front rank of American historical novelists."—The Wall Street Journal
 
"Vivid and compelling . . . a convincing and intriguing portrait of Jackson as he might have been."—The Plain Dealer
 
"Full of action, emotion, and insight, Max Byrd's Jackson deserves to stand with the finest works of historical fiction."—San Francisco Chronicle
 
"Grounded in excellent, detailed historical research, Byrd paints a rich, multilayered portrait."—Chicago Tribune
About the Author
---
Max Byrd is the acclaimed author of Jefferson, Jackson, Grant, Shooting the Sun, and many other novels. An authority on eighteenth- and nineteenth-century American history, Byrd lives in Davis, California.
Praise For…
---
"Max Byrd's historical novels about the third and seventh presidents bring both men alive in ways that only a literary imagination can."—George F. Will, The Washington Post
 
"With Jackson, [Max] Byrd has vaulted . . . into the front rank of American historical novelists."—The Wall Street Journal
 
"Vivid and compelling . . . a convincing and intriguing portrait of Jackson as he might have been."—The Plain Dealer
 
"Full of action, emotion, and insight, Max Byrd's Jackson deserves to stand with the finest works of historical fiction."—San Francisco Chronicle
 
"Grounded in excellent, detailed historical research, Byrd paints a rich, multilayered portrait."—Chicago Tribune