Current Availability
WE'VE BEEN WAITING WEEKS FOR THIS ANNOUNCEMENT
WE ARE OPEN FOR BROWSING!!!!!
AVID READER BOOKSTORE BROWSING HOURS:
MONDAY to THURSDAY 10AM - 4PM
FRIDAY to SATURDAY 10AM - 6PM
SUNDAY - CLOSED
AVID & CO TOY STORE BROWSING HOURS:
MONDAY to FRIDAY : 10AM - 5PM
SATURDAY to SUNDAY : CLOSED
WE CAN'T WAIT TO SEE YOUR LITTLE MASKED FACES.
(BUT SERIOUSLY, YOU MUST BE MASKED BECAUSE IT'S THE COUNTY'S RULES)
USE APPROPRIATE SOCIAL DISTANCING PRACTICES WHEN YOU VISIT THE STORE.
HAVE A SPECIFIC BOOK IN MIND? PLEASE CALL 530-758-4040 OR EMAIL ERIN@AVIDREADERBOOKS.COM FOR CURRENT AVAILABILITY - WE CAN CHECK STORE STOCK OR MAKE A SPECIAL ORDER.
GOTTA DO EVERYTHING WE CAN TO KEEP EACH OTHER SAFE!
The Servants' Quarters (Paperback)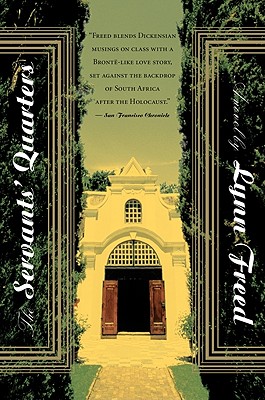 $15.95
Usually Ships in 1-5 Days
Description
---
The Servants' Quarters, a complex and sophisticated love story, evokes a vanishing world of privilege with a Pygmalion twist. Haunted by phantoms of the Second World War and the Holocaust, young Cressida lives in terror of George Harding, who, severely disfigured, has returned from the front to recover in his family's stately African home. When he plucks young Cressida's beautiful mother and her family from financial ruin, establishing them in the old servants' quarters of his estate, Cressida is swept into a future inexorably bound to his. In the new setting, she finds that she is, after all, indentured. She is conscripted to enliven George Harding's nephew, the hopelessly timid Edgar, to make him "wild and daring." And she takes on this task with resentful fury, leading the boy astray and, in the process, learning to manipulate differences in power, class, background, and ambition. Only slowly does she come to understand that George Harding himself is watching her. And waiting.
About the Author
---
LYNN FREED was awarded the inaugural Katherine Anne Porter Award for fiction by the American Academy of Arts and Letters. She is the author of six novels, a short story collection, and a collection of essays.
Praise For…
---
"The Servant's Quarters is Lynn Freed's best novel yet. Cressida, a young girl who watches those around her patch up their wounds from the war and carry on with the weight of pretense, is as observant and as wickedly truthful as any Jane Austen character." --Amy Tan
"Freed is a beautiful writer, dead-on brilliant, rich in humor, possessing a dark and comforting wisdom." -- Anne Lamott