Current Availability
WE'VE BEEN WAITING WEEKS FOR THIS ANNOUNCEMENT
WE ARE OPEN FOR BROWSING!!!!!
AVID READER BOOKSTORE BROWSING HOURS:
MONDAY to THURSDAY 10AM - 4PM
FRIDAY to SATURDAY 10AM - 6PM
SUNDAY - CLOSED
AVID & CO TOY STORE BROWSING HOURS:
MONDAY to FRIDAY : 10AM - 5PM
SATURDAY to SUNDAY : CLOSED
WE CAN'T WAIT TO SEE YOUR LITTLE MASKED FACES.
(BUT SERIOUSLY, YOU MUST BE MASKED BECAUSE IT'S THE COUNTY'S RULES)
USE APPROPRIATE SOCIAL DISTANCING PRACTICES WHEN YOU VISIT THE STORE.
HAVE A SPECIFIC BOOK IN MIND? PLEASE CALL 530-758-4040 OR EMAIL ERIN@AVIDREADERBOOKS.COM FOR CURRENT AVAILABILITY - WE CAN CHECK STORE STOCK OR MAKE A SPECIAL ORDER.
GOTTA DO EVERYTHING WE CAN TO KEEP EACH OTHER SAFE!
Thanks!: How Practicing Gratitude Can Make You Happier (Paperback)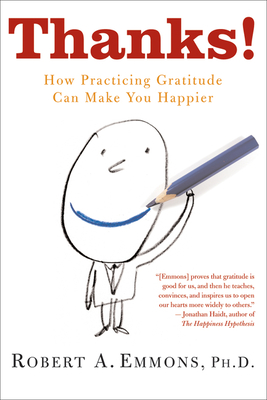 Description
---
The first major study of gratitude that shows how "wanting what we have" can measurably change people's lives.
Did you know that there is a crucial component of happiness that is often overlooked? Robert Emmons—editor-in-chief of the Journal of Positive Psychology—examines what it means to think and feel gratefully in Thanks! and invites readers to learn how to put this powerful emotion into practice. Scientifically speaking, regular grateful thinking can increase happiness by as much as 25 percent, while keeping a gratitude journal for as little as three weeks results in better sleep and more energy. But there's more than science to embrace here: Emmons also bolsters the case for gratitude by weaving in writings of philosophers, novelists, and theologians that illustrate all the benefits grateful living brings. 
About the Author
---
DR. ROBERT EMMONS is a professor at the University of California, Davis, and one of the leading scholars in the positive psychology movement. He is also editor-in-chief of the Journal of Positive Psychology. His work on gratitude has been featured in the Washington Post, the New Republic, Newsweek, and other mainstream media. Dr. Emmons has received multiple grants from the National Institute of Mental Health and the John Templeton Foundation.
Praise For…
---
"We can all be grateful to Robert Emmons for this pioneering work." --David G. Myers, Ph.D., author of The Pursuit of Happiness

"Robert Emmons is the world's leading expert on the psychology of gratitude. . . This is a morally elevating book." --Jonathan Haidt, author of The Happiness Hypothesis

"I am convinced Robert Emmons is right: increasing the national state of gratitude would change the world." --Jim Clifton, Chairman & CEO of The Gallup Organization

"Emmons presents clear and practical ways in which everyone can begin to immensely improve their quality of life." --Dallas Willard, Professor of Philosophy at USC as well as author of Renovation of the Heart

"Gratitude's benefits should be enough to convince even the most cynical secularist that this emotion is essential for achieving happiness." -- Spirituality & Practice Magazine

"A serious, skillful exploration of a current arena of psychological research, by one of the leaders in that emerging field." --Steve Heilig The San Francisco Chronicle