Current Availability
CURBSIDE PICKUP NOW AVAILABLE!!!!
AVID READER BOOKSTORE CURBSIDE HOURS:
MONDAY to THURSDAY 10AM - 4PM
FRIDAY to SATURDAY 10AM - 6PM
SUNDAY - CLOSED
AVID & CO TOY STORE CURBSIDE HOURS:
MONDAY to FRIDAY : 10AM - 5PM
SATURDAY to SUNDAY : CLOSED
WE CAN'T WAIT TO SEE YOUR LITTLE MASKED FACES.
USE APPROPRIATE SOCIAL DISTANCING PRACTICES WHEN YOU VISIT THE STORE.
HAVE A SPECIFIC BOOK IN MIND? PLEASE CALL 530-758-4040 OR EMAIL ERIN@AVIDREADERBOOKS.COM FOR CURRENT AVAILABILITY - WE CAN CHECK STORE STOCK OR MAKE A SPECIAL ORDER.
GOTTA DO EVERYTHING WE CAN TO KEEP EACH OTHER SAFE!
Frontier Figures: American Music and the Mythology of the American West (California Studies in 20th-Century Music #14) (Paperback)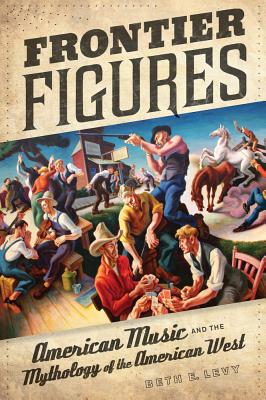 Email or call for price.
Usually Ships in 1-5 Days
Description
---
Frontier Figures is a tour-de-force exploration of how the American West, both as physical space and inspiration, animated American music. Examining the work of such composers as Aaron Copland, Roy Harris, Virgil Thomson, Charles Wakefield Cadman, and Arthur Farwell, Beth E. Levy addresses questions of regionalism, race, and representation as well as changing relationships to the natural world to highlight the intersections between classical music and the diverse worlds of Indians, pioneers, and cowboys. Levy draws from an array of genres to show how different brands of western Americana were absorbed into American culture by way of sheet music, radio, lecture recitals, the concert hall, and film. Frontier Figures is a comprehensive illumination of what the West meant and still means to composers living and writing long after the close of the frontier.
About the Author
---
Beth E. Levy is Associate Professor of Music at the University of California, Davis.
Praise For…
---
"Music professor Levy looks at how Western Americana has been woven into American culture via music."
— Sacramento Bee
"Levy offers an amazing amount of scholarship. She has researched nearly every person and event of this period. . . . Highly recommended."
— W.K. Kearns, Emeritus, University of Colorado at Boulder
"A fine resource for extending the scholarly dialogue."
— Carl Rahkonen
"A welcome and reliable contribution to the scholarship on Tahiti."
— Belinda Thompson
"Frontier Figures tempts us with a great deal of fascinating information and interpretation, and triggers even more questions about the development of American music."
— Journal of the Society for American Music