Current Availability
WE'VE BEEN WAITING WEEKS FOR THIS ANNOUNCEMENT
WE ARE OPEN FOR BROWSING!!!!!
AVID READER BOOKSTORE BROWSING HOURS:
MONDAY to THURSDAY 10AM - 4PM
FRIDAY to SATURDAY 10AM - 6PM
SUNDAY - CLOSED
AVID & CO TOY STORE BROWSING HOURS:
MONDAY to FRIDAY : 10AM - 5PM
SATURDAY to SUNDAY : CLOSED
WE CAN'T WAIT TO SEE YOUR LITTLE MASKED FACES.
(BUT SERIOUSLY, YOU MUST BE MASKED BECAUSE IT'S THE COUNTY'S RULES)
USE APPROPRIATE SOCIAL DISTANCING PRACTICES WHEN YOU VISIT THE STORE.
HAVE A SPECIFIC BOOK IN MIND? PLEASE CALL 530-758-4040 OR EMAIL ERIN@AVIDREADERBOOKS.COM FOR CURRENT AVAILABILITY - WE CAN CHECK STORE STOCK OR MAKE A SPECIAL ORDER.
GOTTA DO EVERYTHING WE CAN TO KEEP EACH OTHER SAFE!
Admission Matters: What Students and Parents Need to Know about Getting Into College (Paperback)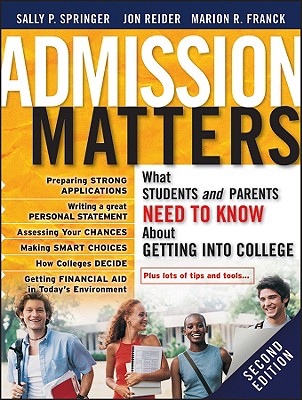 Description
---
The updated edition of the must-have resource for any student applying to college
This thoroughly revised and updated edition of the bestselling book Admission Matters demystifies the college application process and offers practical advice for choosing the right school, writing an effective essay, navigating financial aid, and more. This handy resource will help any college-bound student whether they attend well-funded private schools or cash-strapped public schools. Filled with helpful suggestions, ideas, and advice, the new edition also includes tips for home-schooled students who are preparing to attend college.
Helps all students who are applying to college understand the process and find the school that fits their needs
Expanded information on testing, early decision/early action, applying as a home schooler, and tackling the dreaded college essay
Up-to-date advice on financial aid in tough economic times - how it works and how to maximize your chances of getting aid
Authors bring the multiple viewpoints of college admissions officer, high school counselor, and parent of college-bound students
This book gives any college-bound student the information they need to make the application process run smoothly.
About the Author
---
Sally P. Springer, Ph.D., is associate chancellor emerita at the University of California, Davis. She is a psychologist and has more than thirty-five years of experience in higher education as a professor and university administrator. Jon Reider, Ph.D., is director of college counseling at San Francisco University High School, an independent 9-12 high school. For fifteen years he served as an admissions officer at Stanford University. Marion R. Franck, M.A., is a weekly columnist for the Davis Enterprise. She has been a featured writer in UC Davis' publications for parents.