Current Availability
WE'VE BEEN WAITING WEEKS FOR THIS ANNOUNCEMENT
WE ARE OPEN FOR BROWSING!!!!!
AVID READER BOOKSTORE BROWSING HOURS:
MONDAY to THURSDAY 10AM - 4PM
FRIDAY to SATURDAY 10AM - 6PM
SUNDAY - CLOSED
AVID & CO TOY STORE BROWSING HOURS:
MONDAY to FRIDAY : 10AM - 5PM
SATURDAY to SUNDAY : CLOSED
WE CAN'T WAIT TO SEE YOUR LITTLE MASKED FACES.
(BUT SERIOUSLY, YOU MUST BE MASKED BECAUSE IT'S THE COUNTY'S RULES)
USE APPROPRIATE SOCIAL DISTANCING PRACTICES WHEN YOU VISIT THE STORE.
HAVE A SPECIFIC BOOK IN MIND? PLEASE CALL 530-758-4040 OR EMAIL ERIN@AVIDREADERBOOKS.COM FOR CURRENT AVAILABILITY - WE CAN CHECK STORE STOCK OR MAKE A SPECIAL ORDER.
GOTTA DO EVERYTHING WE CAN TO KEEP EACH OTHER SAFE!
The Jane Austen Book Club (Paperback)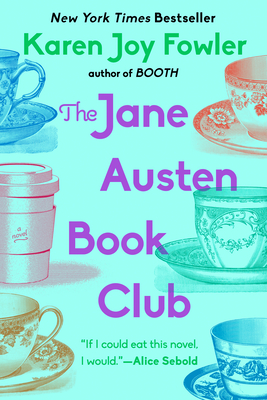 $16.00
Usually Ships in 1-5 Days
Description
---
THE NEW YORK TIMES BESTSELLER

A book club discuss the works of Jane Austen and experience their own affairs of the heart in this charming "tribute to Austen that manages to capture her spirit" (The Boston Globe).

In California's central valley, five women and one man join to discuss Jane Austen's novels. Over the six months they get together, marriages are tested, affairs begin, unsuitable arrangements become suitable, and love happens. With her eye for the frailties of human behavior and her ear for the absurdities of social intercourse, Karen Joy Fowler has never been wittier nor her characters more appealing. The result is a delicious dissection of modern relationships.

Dedicated Austenites will delight in unearthing the echoes of Austen that run through the novel, but most readers will simply enjoy the vision and voice that, despite two centuries of separation, unite two great writers of brilliant social comedy.
About the Author
---
Karen Joy Fowler, a PEN/Faulkner and California Book Award winner, is the author of six novels (two of them New York Times bestsellers) and four short story collections. She has been a Dublin IMPAC nominee, and was shortlisted for the Man Booker Prize in 2014. She lives in Santa Cruz, California.
Praise For…
---
Praise for The Jane Austen Book Club

"Ms. Fowler, an original and unexpectedly voiced novelist, takes her own place among the shining responders. Not just with comments of her own, though there are some excellent ones, but with the entire playful structure of her new novel."—Richard Eder, The New York Times

"If I could eat this nove, I would...A luxuriant pleasure!"—Alice Sebold

"It's natural to approach a novel titled The Jane Austen Book Club with caution, but Karen Joy Fowler's funny, erudite nvoel proved to be a surprise and a delight, a tribute to Austen that manages to capture her spirit."—The Boston Globe

"Karen Joy Fowler creates a novel that is so winning, so touching, so delicately, slyly witty that admirers of Persuasion and Emma will simply sigh with happiness."—Michael Dirda, The Washington Post Book World

"Start quoting a few of Fowler's puckish lines and it becomes damnably difficult to stop...The Jane Austen Book Club amounts to a witty meditation on how the books we choose, choose us too."—San Francisco Chronicle

"The Jane Austen Book Club offers a sparkling rumination on the act of reading itself and how beloved books can serve as refuge, self-definition, snobbish barricades against other people or pathways out of the old self to a wider world. [It is] a terrific comic novel about a closed society merrily transforming itself by reading."—Maureen Corrigan, NPR's All Things Considered

"[Fowler] does so terrific a job of bringing her characters to life that Austen's work falls away like a husk. It's an impressive feat of homage, since Fowler essentially borrowsAusten's great themes...and makes them her own. Miss Austen would be proud."—The Denver Post