Current Availability
WE'VE BEEN WAITING WEEKS FOR THIS ANNOUNCEMENT
WE ARE OPEN FOR BROWSING!!!!!
AVID READER BOOKSTORE BROWSING HOURS:
MONDAY to THURSDAY 10AM - 4PM
FRIDAY to SATURDAY 10AM - 6PM
SUNDAY - CLOSED
AVID & CO TOY STORE BROWSING HOURS:
MONDAY to FRIDAY : 10AM - 5PM
SATURDAY to SUNDAY : CLOSED
WE CAN'T WAIT TO SEE YOUR LITTLE MASKED FACES.
(BUT SERIOUSLY, YOU MUST BE MASKED BECAUSE IT'S THE COUNTY'S RULES)
USE APPROPRIATE SOCIAL DISTANCING PRACTICES WHEN YOU VISIT THE STORE.
HAVE A SPECIFIC BOOK IN MIND? PLEASE CALL 530-758-4040 OR EMAIL ERIN@AVIDREADERBOOKS.COM FOR CURRENT AVAILABILITY - WE CAN CHECK STORE STOCK OR MAKE A SPECIAL ORDER.
GOTTA DO EVERYTHING WE CAN TO KEEP EACH OTHER SAFE!
Guilt (Abe Glitsky) (Mass Market)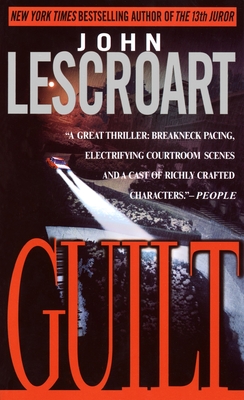 Description
---
"A great thriller: breakneck pacing, electrifying courtroom scenes, and a cast of richly crafted characters."—People
 
Mark Dooher is a prosperous San Francisco attorney and a prominent Catholic, the last person anyone would suspect of a brutal crime.  But Dooher, a paragon of success and a master of all he touches, is about to be indicted for murder.

Charged with savagely killing his own wife, Dooher is fighting for his reputation and his life in a high-profile case that is drawing dozens of lives into its wake—from former spouses to former friends, from a beautiful, naive young attorney to a defense lawyer whose own salvation depends on getting his client off.

Now, as the trial builds to a crescendo, as evidence is sifted and witnesses discredited, as a good cop tries to pick up the pieces of his shattered life and a D.A. risks her career, the truth about Mark Dooher is about to explode.  For in a trial that will change the lives of everyone it touches, there is one thing that no one knows—until it is much too late. . . .
 
Praise for Guilt
 
"A well-paced legal thriller . .  . one of the best in this flourishing genre to come along in a while."—The Washington Post Book World
 
"Begin [Guilt] over a weekend . . . If you start during the workweek, you will be up very late, and your pleasure will be tainted with, well, guilt."—The Philadelphia Inquirer
 
"A wonderful novel . . . reminiscent of Scott Turow. John Lescroart isn't a lawyer, but he writes like one."—Dayton Daily News
 
"Crackling legal action . . . robust and intelligent entertainment."—Publishers Weekly
About the Author
---
John Lescroart is the New York Times bestselling author of numerous legal thrillers and mysteries, most of them set in contemporary San Francisco. Among his novels are The Fall, The Keeper, The Ophelia Cut, The Hunt Club, The Second Chair, The First Law, Nothing but the Truth, and Dead Irish, as well as two novels featuring Auguste Lupa, the reputed son of Sherlock Holmes.
Praise For…
---
No one is above the law.

"A great thriller: breakneck pacing, electrifying courtroom scenes, and a cast of richly crafted characters."
--People

"A well-paced legal thriller...one of the best in this flourishing genre to come along in a while."
--The Washington Post Book World

"Begin [Guilt] over a weekend...if you start during the work week, you will be up very very late, and your pleasure will be tainted with, well, guilt."
--The Philadelphia Inquirer