Current Availability
WE'VE BEEN WAITING WEEKS FOR THIS ANNOUNCEMENT
WE ARE OPEN FOR BROWSING!!!!!
AVID READER BOOKSTORE BROWSING HOURS:
MONDAY to THURSDAY 10AM - 4PM
FRIDAY to SATURDAY 10AM - 6PM
SUNDAY - CLOSED
AVID & CO TOY STORE BROWSING HOURS:
MONDAY to FRIDAY : 10AM - 5PM
SATURDAY to SUNDAY : CLOSED
WE CAN'T WAIT TO SEE YOUR LITTLE MASKED FACES.
(BUT SERIOUSLY, YOU MUST BE MASKED BECAUSE IT'S THE COUNTY'S RULES)
USE APPROPRIATE SOCIAL DISTANCING PRACTICES WHEN YOU VISIT THE STORE.
HAVE A SPECIFIC BOOK IN MIND? PLEASE CALL 530-758-4040 OR EMAIL ERIN@AVIDREADERBOOKS.COM FOR CURRENT AVAILABILITY - WE CAN CHECK STORE STOCK OR MAKE A SPECIAL ORDER.
GOTTA DO EVERYTHING WE CAN TO KEEP EACH OTHER SAFE!
The 13th Juror (Mass Market Paperback)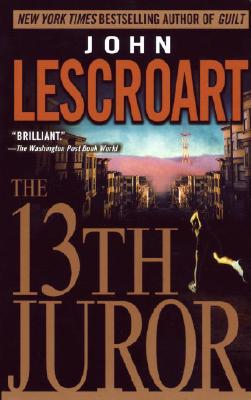 Description
---
He is obsessed with her innocence.  He will be destroyed by her guilt.

The walls were champagne.  The house was immaculate.  A prosperous doctor lived there with his son and his beautiful wife.  But the elegant walls hid a family's secret, a wife's shame.  And one day shots rang out in the doctor's house.  Suddenly Jennifer Witt was in jail, facing the death penalty.

Jennifer insisted that she had not killed her abusive husband -- and she could never have killed her own son.  Dismas Hardy believed her.  But Hardy was only part of the defense team, and the only lawyer who continued to believe her...even as her story was torn to pieces, even as her lies came out, even as she was found guilty of murder.

Now there's only one thing Jennifer can do to save her life...and she refuses to do it.  So Hardy must do it for her.  And in a shocking case of violence, betrayal, and lies, his only weapon is the truth...

The 13th Juror...When innocence is not enough.
Praise For…
---
"A brilliant courtroom drama."
-The Washington Post Book World

"I double-dare you to begin reading John T. Lescroart's new suspense trial novel and put it down....This one is on the money."
-Larry King, USA Today

"Compelling...The power of the book lies in Lescroart's impeccable accumulation of detail."
-The San Francisco Chronicle

"Unusual in his ability to combine courthouse scenes with action sequences, judicial puzzles and dimensional people, Mr. Lescroart produces a full house of well-drawn characters. The many subplots, social issues and legal maneuvers of The 13th Juror, come together in a fast-paced text that sustains interest to the very end."
-The Wall Street Journal