Current Availability
WE'VE BEEN WAITING WEEKS FOR THIS ANNOUNCEMENT
WE ARE OPEN FOR BROWSING!!!!!
AVID READER BOOKSTORE BROWSING HOURS:
MONDAY to THURSDAY 10AM - 4PM
FRIDAY to SATURDAY 10AM - 6PM
SUNDAY - CLOSED
AVID & CO TOY STORE BROWSING HOURS:
MONDAY to FRIDAY : 10AM - 5PM
SATURDAY to SUNDAY : CLOSED
WE CAN'T WAIT TO SEE YOUR LITTLE MASKED FACES.
(BUT SERIOUSLY, YOU MUST BE MASKED BECAUSE IT'S THE COUNTY'S RULES)
USE APPROPRIATE SOCIAL DISTANCING PRACTICES WHEN YOU VISIT THE STORE.
HAVE A SPECIFIC BOOK IN MIND? PLEASE CALL 530-758-4040 OR EMAIL ERIN@AVIDREADERBOOKS.COM FOR CURRENT AVAILABILITY - WE CAN CHECK STORE STOCK OR MAKE A SPECIAL ORDER.
GOTTA DO EVERYTHING WE CAN TO KEEP EACH OTHER SAFE!
Sight Hound: A Novel (Paperback)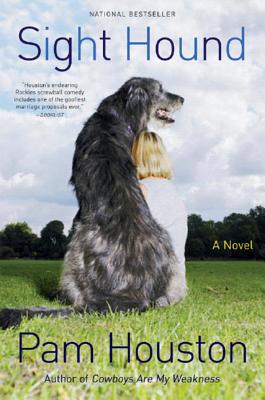 $15.95
Usually Ships in 1-5 Days
Description
---
The long-awaited novel; a very special love story; from the best-selling author of Cowboys Are My Weakness.
This is the story of a woman, Rae, and her dog, Dante, a wolfhound who teaches "his human" that love is stronger than fear (the dog has always known this). Dante is the catalyst for change in other characters as well, and they step forward with their narratives: Rae's house-tender; her therapist; two veterinarians; and an anxiety-ridden actor, Howard, who turns out to be as stalwart as Dante himself. As the "seer" who hunts by sight rather than smell, Dante has some things to add, as does Rose, another dog who lives at Rae's heels, and Stanley the cat. Among and above these myriad voices, Rae voices her own challenges. With the wit and dead-on candor we've come to expect from Pam Houston,
Sight Hound
unfolds a story that illuminates the intangible covenant between loved ones. Here, dogs and humans are simply equal creatures, looking to connect and holding on for dear life when they do. Reading group guide included.
About the Author
---
Pam Houston is the prize-winning author of Contents May Have Shifted, among other books. She is professor of English at the University of California–Davis and lives on a ranch at 9,000 feet in Colorado near the headwaters of the Rio Grande.