Icehenge: A Novel (Paperback)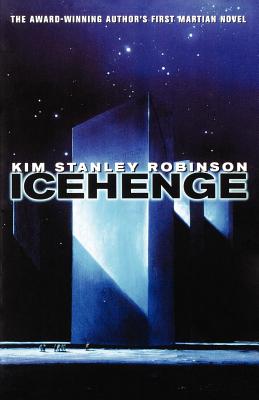 $21.99
Usually Ships in 1-5 Days
Description
---
An early novel from Science Fiction legend Kim Stanley Robinson, now available for the first time in decades: Icehenge.

On the North Pole of Pluto there stands an enigma: a huge circle of standing blocks of ice, built on the pattern of Earth's Stonehenge--but ten times the size, standing alone at the farthest reaches of the Solar System. What is it? Who came there to build it?

The secret lies, perhaps, in the chaotic decades of the Martian Revolution, in the lost memories of those who have lived for centuries.
About the Author
---
KIM STANLEY ROBINSON is an American science fiction writer. He is the author of more than 20 books, including the international bestselling Mars trilogy: Red Mars, Green Mars, Blue Mars, and more recently Red Moon, New York 2140, and 2312, which was a New York Times bestseller nominated for all seven of the major science fiction awards—a first for any book. 2008 he was named a "Hero of the Environment" by Time magazine, and he works with the Sierra Nevada Research Institute, the Clarion Writers' Workshop, and UC San Diego's Arthur C. Clarke Center for Human Imagination. He has won the Hugo, Nebula, Locus, and World Fantasy awards. In 2016 he was given the Heinlein Award for lifetime achievement in science fiction, and asteroid 72432 was named "Kimrobinson." In 2017 he was given the Arthur C. Clarke Award for Imagination in Service to Society.
Praise For…
---
"Unforgettable." —The Baltimore Sun

"In a genre not often distinguished by strong characterization, Robinson is a welcome exception. Yet even the memorable community of his The Wild Shore did not prepare us for this brilliant triptych in which the monolithic artifact of the title and the events surrounding it are described and examined from widely different points of view. The distinct, personal voices of the narratives, as they construct and deconstruct their elegant theories, are a pleasure rare in SF." —Publishers Weekly