The Evolutionary World: How Adaptation Explains Everything from Seashells to Civilization (Hardcover)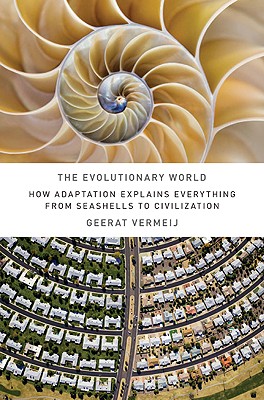 Description
---
""
""One of the master naturalists of our time" (American Scientist) reveals how evolutionary theory explains and affects not just the natural world but our society---and its future."
Evolution has outgrown its original home in biology and geology. "The Evolutionary World" shows how evolution---descent with modification---is a concept that organizes, explains, and predicts a multitude of unconnected facts and phenomena. Adaptation plays a role not only in the development of new species but the development of human civilization. By understanding how evolutionary theory has played out in areas such as our economic system, our preparation for catastrophes, and even the development of communities, we can learn not just how these systems work but also what challenges lie ahead.
Blind since the age of three, Dr. Geerat J. Vermeij has become renowned for his unique abilities to recognize details in the natural world that other scientists would never have noticed. In this book, he presents a new argument for evolution's broader importance. He explores similarities between genomes and languages, the contrasting natural economies of islands and continents, the emergence and importance of human values, the long-range consequences of global warming, and the perils of monopoly. He also shows that the lessons of evolution have implications for education, our system of laws, and economic growth.
"The Evolutionary World" makes a fascinating argument about the broad-reaching impact and importance of evolution. It offers a way for us to understand and work with evolution's principles so that we can devise better solutions for our own lives, society, and the environment around us.
About the Author
---
GEERAT J. VERMEIJ, Ph.D., is Distinguished Professor of Geology at the University of California at Davis. Vermeij was born in the Netherlands and came to the United States with his family in 1955. He has received the Daniel Giraud Elliot Medal by the National Academy of Sciences and was honored as a MacArthur Fellow. He has published more than two hundred scientific papers and five books and served as editor for "Evolution "and "Paleobiology," the foremost journals in their respective fields.
Praise For…
---
"To earn the title of distinguished professor of geology at the University of California, Vermeij had to be an astute and careful observer, an original thinker and analyst, and a skilled teacher and communicator. All of these qualities are on display in his new book ... This naturalistic bent is coupled with literary flair."
—The Dallas Morning News
"A transcendent view of evolution as adaptation, not only accounting for the origin of species but as the force that can explain the accumulation of knowledge, economies and civilization itself."
—Kirkus Reviews
"An absorbing joy to read."
—Booklist
"A marvel ... Vermeij writes personably, and his arguments are detailed but free of jargon.... The Evolutionary World is very accessible even to rigorously non-scientific readers like this reviewer. Such attention is richly rewarded."
—Bookpage
"Outstanding theoretical biologists are rare, but Geerat Vermeij is more than "just" a superb theoretician. His writing combines impressive rhetorical skills, deep insights into evolutionary theory and ecology, encyclopedic breadth and depth of knowledge in contemporary natural history and paleontology, and a welcome absence of ego. He fills The Evolutionary World with delights for the mind ranging from astute observations of morphological minutiae to intriguing hypotheses and syntheses—all selected to show how an evolutionary perspective can yield "an emotionally satisfying, aesthetically pleasing, and deeply meaningful worldview in which the human condition is bathed in a new light." The book is a joy to read, both for its often lyrical prose, and for its provocative hypotheses."
—
Reports of the National Center for Science Education
"A bold, brash, and magisterial account of the fundamental mechanisms that built our bodies, our genes, and our society. A culmination of decades of thinking by one of our leading scientists, this is a book that is sure to stir the pot."
---Neil Shubin, author of Your Inner Fish
 "From why grass evolved to why insects do not inhabit the sea, Geerat Vermeij answers questions that most of us have forgotten even to ask. He does so in a style of such warm humanity and light informality that the reader can find himself grappling with great evolutionary conundrums without discernible effort."
---Matt Ridley, author of Genome: The Autobiography of a Species in 23 Chapters
"In Vermeij's hands, a seashell is not merely a pretty thing, but an object of wonder that speaks of nature's secrets and even the human condition. A wise and luminous book."
---Armand Marie Leroi, author of Mutants: On Genetic Variety and the Human Body
"Geerat Vermeij's wonderful new book, The Evolutionary World, will be read with delight by all who love science and should be read for instruction by those who think that an evolutionary world picture in any way detracts from our true understanding of ourselves and the planet on which we all live. It is simply a testament to the powers of the human mind."
---Michael Ruse, author of Defining Darwin
"A wonderfully rich and wise book. Combining an exhilarating zest for life with unusual and acute powers of observation, Geerat Vermeij is also a refreshingly original thinker. His insights into the processes of evolution and their relevance to science and society are striking and thought-provoking. An illuminating book."
---Nick Lane, author of Life Ascending: The Ten Great Inventions of Evolution