Current Availability
WE'VE BEEN WAITING WEEKS FOR THIS ANNOUNCEMENT
WE ARE OPEN FOR BROWSING!!!!!
AVID READER BOOKSTORE BROWSING HOURS:
MONDAY to THURSDAY 10AM - 4PM
FRIDAY to SATURDAY 10AM - 6PM
SUNDAY - CLOSED
AVID & CO TOY STORE BROWSING HOURS:
MONDAY to FRIDAY : 10AM - 5PM
SATURDAY to SUNDAY : CLOSED
WE CAN'T WAIT TO SEE YOUR LITTLE MASKED FACES.
(BUT SERIOUSLY, YOU MUST BE MASKED BECAUSE IT'S THE COUNTY'S RULES)
USE APPROPRIATE SOCIAL DISTANCING PRACTICES WHEN YOU VISIT THE STORE.
HAVE A SPECIFIC BOOK IN MIND? PLEASE CALL 530-758-4040 OR EMAIL ERIN@AVIDREADERBOOKS.COM FOR CURRENT AVAILABILITY - WE CAN CHECK STORE STOCK OR MAKE A SPECIAL ORDER.
GOTTA DO EVERYTHING WE CAN TO KEEP EACH OTHER SAFE!
Banana Republican: From the Buchanan File (Paperback)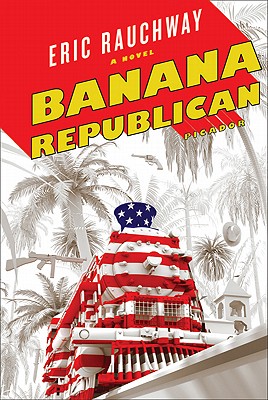 Description
---
A rollicking, outrageous, and altogether brilliant perversion of known facts--and a much beloved fiction--"Banana Republican "sends the crass and hilarious Tom Buchanan through America's infamously mismanaged intervention in Nicaragua in the early twentieth century. Author and historian Eric Rauchway makes the 1920s feel frighteningly familiar: an age of unbounded capitalism, imperialism, nascent globalization, socially acceptable racism, and careless economic policy. This smart, satirical send-up of greed, Gatsby, and gusto parades the American dream in all its ragged glory.
About the Author
---
A professor of history at the University of California, Davis, Eric Rauchway is the author of "Murdering McKinley: The Making of Theodore Roosevelt's America" (H&W, 2003) and "Blessed Among Nations "(H&W, 2006). He lives in northern California.
Praise For…
---
"Read as a straightforward adventure yarn, 'Banana Republican' offers the pleasures of an exotic setting, inventive plotting and a metaphor that captures the waste and fatuity of our more recent global misadventures — not too bad for a slender and unpretentiously written little novel." —Richard Schickel, Los Angeles Times  "This first fictional work from Rauchway is a comic picaresque novel of the type made popular by George Fraser in his Flashman novels. But in place of mid-19th-century Europe, we have 1924 Nicaragua, and instead of Harry Flashman, we have English poseur Tom Buchanan, formerly of Yale varsity football and 100 percent bluster. If the name sounds familiar, it's because Buchanan was a character in The Great Gatsby, where he got a bad rap as a bully, a boor, and a braggart. He's all of these, but as Tom would say, 'What's wrong with that?' In this delightful novel, Buchanan is sent by his aunt, who controls the purse strings, to set things right for family interests in Nicaragua, where after the first 'free' election in Nicaraguan history, all sides are battling to see who will loot the country's coffers first. Tom looks like a hero but avoids risk of any sort, while he pleasures women and lives through harrowing adventures. After a long ride, he survives—undamaged, unrepentant, and a yahoo still... An enjoyable novel that begs for a sequel." —David Keymer, Library Journal