Current Availability
WE'VE BEEN WAITING WEEKS FOR THIS ANNOUNCEMENT
WE ARE OPEN FOR BROWSING!!!!!
AVID READER BOOKSTORE BROWSING HOURS:
MONDAY to THURSDAY 10AM - 4PM
FRIDAY to SATURDAY 10AM - 6PM
SUNDAY - CLOSED
AVID & CO TOY STORE BROWSING HOURS:
MONDAY to FRIDAY : 10AM - 5PM
SATURDAY to SUNDAY : CLOSED
WE CAN'T WAIT TO SEE YOUR LITTLE MASKED FACES.
(BUT SERIOUSLY, YOU MUST BE MASKED BECAUSE IT'S THE COUNTY'S RULES)
USE APPROPRIATE SOCIAL DISTANCING PRACTICES WHEN YOU VISIT THE STORE.
HAVE A SPECIFIC BOOK IN MIND? PLEASE CALL 530-758-4040 OR EMAIL ERIN@AVIDREADERBOOKS.COM FOR CURRENT AVAILABILITY - WE CAN CHECK STORE STOCK OR MAKE A SPECIAL ORDER.
GOTTA DO EVERYTHING WE CAN TO KEEP EACH OTHER SAFE!
How the World Makes Love: . . . And What It Taught a Jilted Groom (Hardcover)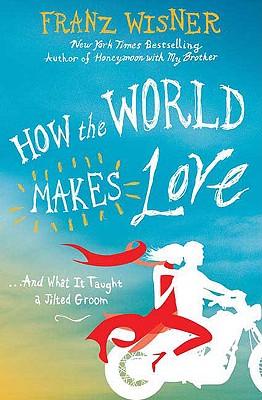 Description
---
The bestselling author of Honeymoon with My Brother hits the road again to learn about love and finally finds it closer to home When you've been jilted at the altar and forced to take your pre-paid honeymoon with your brother, it's fair to say you could learn a thing or two about love. And that's what Franz Wisner sets out to do—traveling the globe with a mission: to discover the planet's most important love lessons and see if they can rescue him from the ruins of his own love life. Even after months on the road, he's still not sure he's found the secret. But a disastrous date with a Los Angeles actress and single mom keeps popping into Franz's head. While researching ideal love, could he have missed a bigger truth: that something unplanned and implausible could actually make him happy?
Uproarious, tender, and studded with eye-opening insights on love,
How the World Makes Love
is the story of one average man's search for happiness—a search that turns into an improbable love story in the author's own backyard.
About the Author
---
FRANZ WISNER got dumped at the altar and turned the experience into a career. Wisner has written for a variety of publications, including "The Los Angeles Times "and the "San Francisco Chronicl"e. He lives in Connecticut.
Praise For…
---
"In 2005, the author was jilted at the altar and turned the experience into the memoir Honeymoon With My Brother. In this follow-up, the bros decide to hit the road again, this time researching how countries around the world (including Nicaragua, New Zealand and India) value love. This quirky and charming book not only gives you insight into the male mind but also makes you want to explore your own notions of what love means."--Redbook
"Here's another provocatively titled book from the author of the unexpected hit
Honeymoon with My Brother
(2005). After he was ditched at the altar, the author decided to take his honeymoon anyway (hey, it was already paid for). He enlisted his brother, Kurt, to accompany him, and then he wrote a book about the experience. Now he's written a follow-up, in which he and his brother visit various foreign countries— including Brazil, Egypt, India, and Botswana—and talk to people about love, romance, sex, and other related subjects. The book is all at once a travelogue, an exploration of the notion of love, and a story about a man who has somehow managed to turn a humiliating personal experience into a new kind of life. Wisner is a very funny writer when the situation calls for it, but he can also be tender, thoughtful, and wise. A must-read for fans of Honeymoon with My Brother, but the book works just fine as a stand-alone, too." --
Booklist