Current Availability
WE'VE BEEN WAITING WEEKS FOR THIS ANNOUNCEMENT
WE ARE OPEN FOR BROWSING!!!!!
AVID READER BOOKSTORE BROWSING HOURS:
MONDAY to THURSDAY 10AM - 4PM
FRIDAY to SATURDAY 10AM - 6PM
SUNDAY - CLOSED
AVID & CO TOY STORE BROWSING HOURS:
MONDAY to FRIDAY : 10AM - 5PM
SATURDAY to SUNDAY : CLOSED
WE CAN'T WAIT TO SEE YOUR LITTLE MASKED FACES.
(BUT SERIOUSLY, YOU MUST BE MASKED BECAUSE IT'S THE COUNTY'S RULES)
USE APPROPRIATE SOCIAL DISTANCING PRACTICES WHEN YOU VISIT THE STORE.
HAVE A SPECIFIC BOOK IN MIND? PLEASE CALL 530-758-4040 OR EMAIL ERIN@AVIDREADERBOOKS.COM FOR CURRENT AVAILABILITY - WE CAN CHECK STORE STOCK OR MAKE A SPECIAL ORDER.
GOTTA DO EVERYTHING WE CAN TO KEEP EACH OTHER SAFE!
The Exile's Song: Edmond Dédé and the Unfinished Revolutions of the Atlantic World (Hardcover)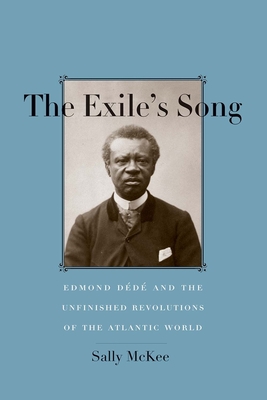 Description
---
The extraordinary story of African American composer Edmond Dédé, raised in antebellum New Orleans, and his remarkable career in France

In 1855, Edmond Dédé, a free black composer from New Orleans, emigrated to Paris. There he trained with France's best classical musicians and went on to spend thirty-six years in Bordeaux leading the city's most popular orchestras. How did this African American, raised in the biggest slave market in the United States, come to compose ballets for one of the best theaters outside of Paris and gain recognition as one of Bordeaux's most popular orchestra leaders? Beginning with his birth in antebellum New Orleans in 1827 and ending with his death in Paris in 1901, Sally McKee vividly recounts the life of this extraordinary man. From the Crescent City to the City of Light and on to the raucous music halls of Bordeaux, this intimate narrative history brings to life the lost world of exiles and travelers in a rapidly modernizing world that threatened to leave the most vulnerable behind.
About the Author
---
Sally McKee teaches history at the University of California, Davis. Her research has included Venice's Mediterranean colonies and domestic slavery in the households of late medieval Italy. Her focus on the sexual, familial, and coercive relationships between enslaved women and the free men around them in those earlier centuries stimulated her new work on race and cultural movements in the nineteenth and early twentieth centuries.