Current Availability
WE'VE BEEN WAITING WEEKS FOR THIS ANNOUNCEMENT
WE ARE OPEN FOR BROWSING!!!!!
AVID READER BOOKSTORE BROWSING HOURS:
MONDAY to THURSDAY 10AM - 4PM
FRIDAY to SATURDAY 10AM - 6PM
SUNDAY - CLOSED
AVID & CO TOY STORE BROWSING HOURS:
MONDAY to FRIDAY : 10AM - 5PM
SATURDAY to SUNDAY : CLOSED
WE CAN'T WAIT TO SEE YOUR LITTLE MASKED FACES.
(BUT SERIOUSLY, YOU MUST BE MASKED BECAUSE IT'S THE COUNTY'S RULES)
USE APPROPRIATE SOCIAL DISTANCING PRACTICES WHEN YOU VISIT THE STORE.
HAVE A SPECIFIC BOOK IN MIND? PLEASE CALL 530-758-4040 OR EMAIL ERIN@AVIDREADERBOOKS.COM FOR CURRENT AVAILABILITY - WE CAN CHECK STORE STOCK OR MAKE A SPECIAL ORDER.
GOTTA DO EVERYTHING WE CAN TO KEEP EACH OTHER SAFE!
The Refuge of Affections: Family and American Reform Politics, 1900-1920 (Columbia Studies in Contemporary American History) (Paperback)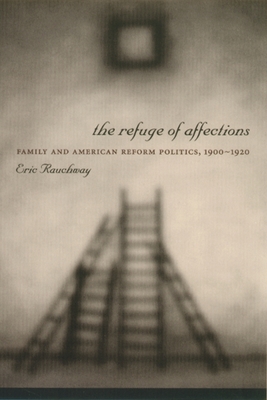 Description
---
The Progressives--those reformers responsible for the shape of many American institutions, from the Federal Reserve Board to the New School for Social Research--have always presented a mystery. What prompted middle-class citizens to support fundamental change in American life? Eric Rauchway shows that like most of us, the reformers took their inspiration from their own lives--from the challenges of forming a family. Following the lives and careers of Charles and Mary Beard, Wesley Clair and Lucy Sprague Mitchell, and Willard and Dorothy Straight, the book moves from the plains of the Midwest to the plains of Manchuria, from the trade-union halls of industrial Britain to the editorial offices of the New Republic in Manhattan. Rauchway argues that parenting was a kind of elitism that fulfilled itself when it undid itself, and this vision of familial responsibility underlay Progressive approaches to foreign policy, economics, social policy, and education.
About the Author
---
Eric Rauchway is University Lecturer in American History at the University of Oxford.