Current Availability
WE'VE BEEN WAITING WEEKS FOR THIS ANNOUNCEMENT
WE ARE OPEN FOR BROWSING!!!!!
AVID READER BOOKSTORE BROWSING HOURS:
MONDAY to THURSDAY 10AM - 4PM
FRIDAY to SATURDAY 10AM - 6PM
SUNDAY - CLOSED
AVID & CO TOY STORE BROWSING HOURS:
MONDAY to FRIDAY : 10AM - 5PM
SATURDAY to SUNDAY : CLOSED
WE CAN'T WAIT TO SEE YOUR LITTLE MASKED FACES.
(BUT SERIOUSLY, YOU MUST BE MASKED BECAUSE IT'S THE COUNTY'S RULES)
USE APPROPRIATE SOCIAL DISTANCING PRACTICES WHEN YOU VISIT THE STORE.
HAVE A SPECIFIC BOOK IN MIND? PLEASE CALL 530-758-4040 OR EMAIL ERIN@AVIDREADERBOOKS.COM FOR CURRENT AVAILABILITY - WE CAN CHECK STORE STOCK OR MAKE A SPECIAL ORDER.
GOTTA DO EVERYTHING WE CAN TO KEEP EACH OTHER SAFE!
The Luxury Economy and Intellectual Property: Critical Reflections (Hardcover)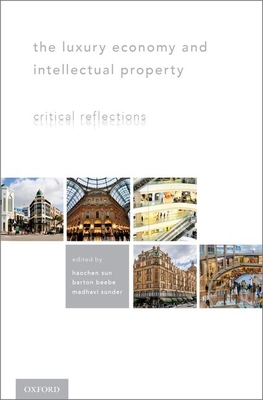 Description
---
Intellectual property law plays a pivotal role in ensuring that luxury goods companies can recoup their investments in the creation and dissemination of their copyrighted works, trademarked logos, and patented designs. In 2011, global sales for luxury goods reached about $250 billion, and consumers in East and Southeast Asia accounted for more than 50 percent of that figure. The rapid expansion of the market has prompted some retailers to wield intellectual property against the influx of imitators and counterfeiters. The Luxury Economy and Intellectual Property comprehensively explores the rise of the luxury goods economy and the growing role of intellectual property in creating, sustaining, and regulating this economy. Leading scholars across various disciplines critically consider the industry, its foundational intellectual property laws, and the public interest and social concerns arising from the intersection of economics and law. Topics covered include defining the concept of luxury, the social life of luxury goods, concerns about distributive justice in a world flooded by luxury goods and knockoffs, the globalization of luxury goods, and the economic, social, and political ramifications of the meteoric rise of the Asian luxury goods market.

About the Author
---
Haochen Sun is Assistant Professor of Law at the University of Hong Kong Faculty of Law. He teaches and writes in the areas of intellectual property and property law. He has been a Visiting Professor of Law at the University of California, Davis, School of Law. Professor Sun has organized a few leading international conferences on intellectual property and has taught courses on luxury brand protection. His recent publications include Living Together in One Civilized World: How Luxury Companies and Consumers Can Fulfill Their Ethical Responsibilities to the Poor, 46 UC Davis Law Review 547 (2013). Barton Beebe is the John M. Desmarais Professor of Intellectual Property Law at New York University School of Law. He has been the Anne Urowsky Visiting Professor of Law at Yale Law School and a Visiting Professor of Law at Stanford Law School. In 2007, Professor Beebe was a Special Master in the case of Louis Vuitton Malletier v. Dooney & Bourke, Inc., No. 04 Civ. 2990 (SAS) (S.D.N.Y.). His published works include Intellectual Property Law and the Sumptuary Code, 123 Harvard Law Review 809 (2010). Madhavi Sunder is Professor of Law at the University of California, Davis, School of Law. Her work traverses numerous legal fields, from intellectual property to human rights law and the First Amendment. She has been Visiting Professor of Law at Yale Law School, the University of Chicago Law School, and Cornell Law School. She was named a Carnegie Scholar in 2006. She is the author of From Goods to a Good Life: Intellectual Property and Global Justice (2012).