How the Other Half Thinks: Adventures in Mathematical Reasoning (Paperback)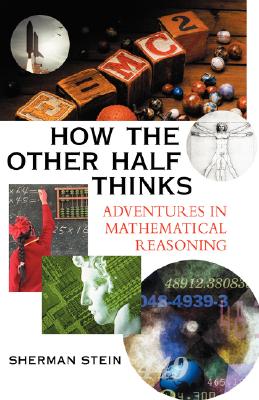 Description
---
"In some difficult musical compositions there are beautiful, but easy parts--so simple a beginner could play them. So it is with mathematics as well."--Sherman Stein from the Introduction
Some topics in advanced mathematics simply require arithmetic and common sense. "How the Other Half Thinks" by Sherman Stein uses this phenomenon to offer both the adept and the beginner eight fascinating illustrations of the mathematical way.
With a leisurely pace, Stein guides readers through each mathematical problem. His approach makes complex concepts like topology, set theory, and probability accessible and exciting. After the problem is solved, Stein shows how the related mathematics are applied in areas such as computers, measurement of astronomical distances, and cell growth.
The mathematical style of thinking is one that everyone can use to understand the world, whether they use the creative right half of the brain, or rely more on the analytical left half. "How the Other Half Thinks" is for the novice and the skilled, the poet and the scientist--who can each be immersed in the mathematical world, not as a spectator, but as a participant.